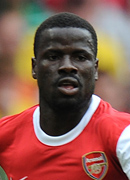 Emmanuel Eboué
Squad No: 27
Position: Defender
Age: 30
Birth Date: Jun 4, 1983
Birth Place: Abidjan, Ivory Coast
Height: 1.78m
Weight: 72 kg
EMMANUEL EBOUÉ
On December 6, 2008, Emmanuel Eboue suffered the ultimate humiliation. Already on as a substitute in a game against Wigan, he was removed to a chorus of jeers from his own supporters after inadvertently tackling his team-mate, Kolo Toure, and passing to an opposition player to complete a terrible performance. It is testament to the resilience and sheer determination of the Ivory Coast international that he now enjoys cult hero status amongst the Arsenal support that once booed him.
Like Toure a graduate of the famous Ivorian ASEC Mimosas academy, the start of Eboue's career at Arsenal was anything but problematic after he joined the club from Beveren in a £1 million deal in January 2005. He broke into the team after an injury to Lauren in the 2005-06 season and earned rave reviews for his performances at right back as the Gunners reached the Champions League final with a patched-up defence.
However, Eboue's decline began at the start of the 2007-08 season when Arsenal recruited Bacary Sagna as their new right back. Eboue was moved into an advanced role in midfield and did not look entirely comfortable. He suffered the nadir of his Arsenal career the following season and his future at the club was called into question.
Eboue responded superbly with a series of committed performances though, including in the club's very next game against Porto, and won back the support of the Arsenal fans who appreciated his application and effort. An experienced international player, a rejuvenated Eboue is Wenger's right back of choice when facing sides set up to defend and he has also settled into his midfield role when required.
Strengths: Eboue possesses huge reserves of energy. He is very quick and utilises this quality well when bursting forward from the back. He is good in tight situations and his close passing is impressive. As well as being a positive influence on the dressing room, Eboue works very hard for the team and applies himself well.
Weaknesses: The Ivorian has demonstrated time and again that he lacks any kind of composure in front of goal. His final product - whether a shot, cross or crucial pass - can be frustratingly bad while his temperament is questionable.
Career high: Performing superbly at right back during Arsenal's run to the Champions League final in 2006. He drew widespread praise from the football community and Arsene Wenger even compared him to Garrincha in April of that year.
Career low: Getting jeered by his own fans and being described as a "danger" to his own team by Wenger after an error-strewn performance against Wigan in 2008.
Style: Athletic, dynamic, versatile, an unpredictable presence.
Quotes: "I never thought it was impossible for him to win them over. People will assess you by your attitude. I believe you can always win fans over if you have the right performances on the pitch."Arsene Wenger on Eboue's relationship with Arsenal fans, 2009..
Trivia: Eboue is well known as the joker of the squad and once turned up to a team Christmas party dressed as a tiger. It was not a fancy dress party.