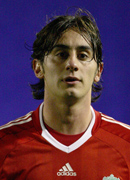 Alberto Aquilani
Squad No: 10
Position: Midfielder
Age: 29
Birth Date: Jul 7, 1984
Birth Place: Rome, Italy
Height: 6' 1'' (1.85m)
Weight: 79 kg
2013/14 Italian Serie A
| GAMES | GOALS | ASSISTS | SHOTS |
| --- | --- | --- | --- |
| 28 | 6 | 1 | 54 |
ALBERTO AQUILANI
A precocious talent and on Roma's books from a very early age, Aquilani was tasked with filling the void left by Xabi Alonso at Liverpool and moved to Anfield in August 2009 for £20 million, although was soon shifted out on loan to Juventus and then AC Milan.
The attacking midfielder had spent his entire career at Roma, although he did have a loan spell with Triestina in 2003-04 and both Arsenal and Chelsea had tried to lure him to London before he signed a professional contract aged 16.
Fabio Capello handed the player his Serie A debut at the end of the 2002-03 season against Torino and he broke into the first team on a regular basis in 2005-06. However, a poor injury record raised concerns over his long-term fitness and he did not make the impact that many had tipped him to have, before he chose to move to a different challenge with Liverpool.
He lasted only a season at Anfield though, as injuries and poor form led him to a loan move back to Italy, with Juve, in the summer of 2010. The Old Lady, however, would not pay the £17 million fee required by the Reds to release him and he returned to England only to move back to Serie A with champions AC Milan in August 2011.
Strengths: A quality, skilful midfielder with an eye for goal, his silky touch on the ball marks him out as a special player.
Weaknesses: His injuries have stunted his progress and he has not played with consistency.
Career high: Netting a goal in the Rome derby win in February 2006, he helped to break the record for most consecutive wins in Serie A at the time.
Career low: A series of injuries in 2008-09 that hindered his development and kept him sidelines.
Style: Classy, assured, an artist in possession.
Quotes: "He is a good passer, the final ball is good, and he also works. If he can settle down properly in England he can be a very good addition. I think the signing should excite the fans." Rafa Benitez, August 2009.
Trivia: He is nicknamed the 'Il Principino' (the Little Prince) for his style on the ball.