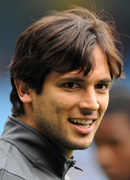 Roque Santa Cruz
Squad No: 9
Position: Forward
Age: 32
Birth Date: Aug 16, 1981
Birth Place: Asuncion, Paraguay
Height: 6 ' 2" (1.88m)
Weight: 80 kg
2013/14 Spanish La Liga
| GAMES | GOALS | ASSISTS | SHOTS |
| --- | --- | --- | --- |
| 28 | 6 | 2 | 45 |
ROQUE SANTA CRUZ
The second-most prolific scorer in Paraguay's history, Roque Santa Cruz made a name for himself rapidly. He started at Olimpia at the age of nine, and his goalscoring made him the club's most promising young gun. Luis Cubilla called him up to the first team at the age of 15, and he made his debut a year later.
In the 1998 and 1999 seasons, Santa Cruz won two titles with Olimpia and was chosen as Paraguayan player of the year. As expected, many offers arrived from abroad, and Bayern Munich signed him in 1999. But despite his talent and a rapport with fans, he never reached his true potential with the team.
Injuries and bad relationships with his coaches were to blame for his lack of a regular spot in Munich. At Bayern, he played 146 games and scored 31 goals before England's Blackburn Rovers signed him in 2007. He was a key player at Ewood Park: in 54 games, he scored 23 goals. Finally, after a long courtship, in the summer of 2009 he was purchased by Manchester City.
Injuries remained a problem during his first season at Eastlands, though, and with competition for places increasing he struggled to assert himself on the squad.
Strengths: His height means the aerial game is his main weapon, though he is also two-footed and not lacking in composure on the ball.
Weaknesses: The long list of injuries he has suffered during his career and a lack of pace.
Career high: During 2007-08, his first year at Blackburn Rovers, he revived his career and was top scorer.
Career low: One of the many knee injuries that he suffered towards the end of 2005 kept him out for six months, meaning he would later struggle to regain his previous form.
Style: A constant presence in the box, his physical strength is the basis of his game.
Quotes: "He has been fantastic since he's come through the door. Not only have we been impressed by his technical ability and the pace and power that he has, but by his demeanour as well around the place." Mark Hughes, January 2008
Trivia: A German band composed a song honoring Santa Cruz, entitled 'Ich Roque'. In the video, Santa Cruz appears singing the chorus.