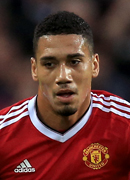 Chris Smalling
Squad No: 12
Position: Defender
Age: 24
Birth Date: Nov 22, 1989
Birth Place: England
Height: 1.94m
Weight: 90 kg
2013/14 English Premier League
| GAMES | GOALS | ASSISTS | SHOTS |
| --- | --- | --- | --- |
| 23 | 1 | 0 | 12 |
CHRIS SMALLING
Defender Smalling joined Fulham in June 2008 after breaking through with Maidstone United, but was snapped up by Manchester United in a shock transfer in January 2010 after agreeing terms.
He made his Cottagers debut in February 2009 and went on to make further appearances in the Europa League the following season. Tall and agile, he played well without ever seriously impressing so it was a surprise when United escalated a bidding war to beat Arsenal to his £12 million signature. He stayed at Fulham until the end of the 2009-10 season before moving to Old Trafford in the summer.
It was unclear how much the inexperienced Smalling would actually get to play at United but he slotted straight into the first-team squad and quickly established himself as first-choice deputy (ahead of Jonny Evans) for Rio Ferdinand and Nemanja Vidic, with the former's injury problems ensuring he featured more often than many would have expected. He started more than half of United's Champions League games and earned widespread acclaim for displays against Marseille in the second round. Smalling looks set to become a permanent fixture of the United defence for years to come.
Strengths: Hailed as an future successor to Rio Ferdiand, Smalling shares many of his qualities - including calmness on the ball, accurate distribution and solid aerial ability.
Weaknesses: His positional sense and concentration have been called in to question at times.
Career High: Winning a Premier League title in his first season at Manchester United after starting 16 games, and playing in a Champions League semi-final - the second leg against Schalke in 2010-11.
Career Low: Losing to Chelsea on his Premier League debut for Fulham - made worse by the fact that it was Smalling's own goal that was the difference between the two teams.
Style: Tall and rangy, Smalling is a physically imposing centre-back who is equally adept in the air and with the balll at his feet.
Quotes: "We are very pleased with his performances. It's an outstanding contribution he has made. But, do you know, I expected him to do well. I had no doubts about him." Sir Alex Ferguson praises Smalling's performances in his first season.
Trivia: Smalling studied travel and tourism, mediapstudies and business studies at A-level, as well as economics at AS-level.