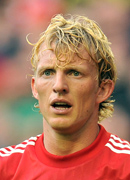 Dirk Kuyt
Squad No: 18
Age: 33
Birth Date: Jul 22, 1980
Birth Place: Katwijk aan Zee, Netherlands
Height: 6' 0'' (1.83m)
Weight: 77 kg
DIRK KUYT
Signed by Liverpool as a striker in the summer of 2006, Kuyt has carved out a new reputation as a hard-working wide man. A player who will never stop running until the last minute, Kuyt is the kind of performer who is respected by coaches, team-mates and fans as someone who is a true team player.
He began his professional career with FC Utrecht, so often home to future Holland internationals. A fine return of a goal every three games attracted the interest of Feyenoord who he joined in 2003. It was with the Rotterdam club that he really made a name for himself, plundering 71 goals in 101 matches which led to a move to Liverpool.
Kuyt was never able to live up to that goal-scoring return in the English game, which eventually led to him moving back to the midfield role. Although he may not be a natural winger, his boundless energy and hard work make him suited to the role of getting up and down the wing.
Strengths: Will work from the first minute until the last, is adept at holding up the ball and bringing others into the game.
Weaknesses: A lack of goals since moving to the top level of the game will always be highlighted. He is also not very strong in the air nor is he likely to produce the kind of skill that will beat two defenders and leave them for dead.
Career high: Kuyt was the 2005-06 Dutch Footballer of the Year in his final season with Feyenoord.
Career low: He scored in the 2007 Champions League final, but it would be a bittersweet moment as AC Milan beat Liverpool 2-1 in Athens.
Style: Hard-working, committed, a never-say-die player with no frills.
Quotes: "Dirk Kuyt is a special player for us. He is a very good striker, he can play on the right or in the middle and he is always a danger. His work ensures that. He is always around in the box to take advantage of situations where the keeper has blocked or parried a shot and the ball is loose. He is always aware, he sees situations as they develop and he is always ready for the second ball when it drops in the box." Rafael Benitez, September 2009.
Trivia: Dirk enjoys playing Mario Kart on the Nintendo DS with his Liverpool team-mates on away trips.