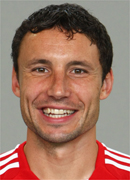 Mark Van Bommel
Squad No: 17
Position: Midfielder
Age: 37
Birth Date: Apr 22, 1977
Birth Place: Maasbracht, Netherlands
Height: 1.88m
Weight: 187 kg
MARK VAN BOMMEL
Van Bommel has divided opinion over the years with his robust style of play which ultimately proves to be a key part of his side's successes.
The midfielder started his career at local club RKVV Maasbracht before making his way as a professional with Fortuna Sittard in 1992. Quickly rising up the ranks he attracted the attention of PSV and won three Eredivisie titles while he was also named the Dutch Player of the Year in 2001 and 2005.
Moving to Barcelona in 2006, Van Bommel won the Champions League and La Liga but left the Spanish giants after a year to join Bayern Munich. His brand of no-nonsense midfield craft plugged the gap created when Michael Ballack left for Chelsea, and he picked up two titles and two cups as the first non-German captain of the side.
As if to highlight his importance, Van Bommel signed a six-month contract with Italian club Milan on a free transfer in January 2011 and helped them to the Scudetto.
Making his international debut in 2000, he did not make an appearance in a major tournament until 2006, as the Dutch failed to qualify for the 2002 World Cup and he was injured before Euro 2004. Anchoring the midfield, he impressed in 2006, but fell out with then-coach Marco van Basten and did not return to internationals until 2010 when he was made captain and led his side to the final, only to be beaten by Spain.
Strengths: A real leader and a great ball-winner, he is a tiger in the centre of the park and boasts excellent stamina.
Weaknesses: A hot-head has seen some disciplinary problems, while his range of passing is not as good as it was.
Career high: Captaining the Netherlands side to the 2010 World Cup final.
Career low: Although he won La Liga and the Champions League, his single year in Barcelona in 2005-06 was deemed a personal failure.
Style: Robust, combative, powerful, a destructive force in midfield.
Quotes: ''I don't agree with what people are saying. The yellow card on Tuesday was his first in the entire competition. He has shown a lot of discipline in his play.'' Bert van Marwijk on Van Bommel ahead of the World Cup final.
Trivia: Van Bommel is married to Bert van Marwijk's daughter Andra, with whom he has three children.