Champions League can motivate PSG in Ligue 1 - Laurent Blanc
Paris Saint-Germain should use their dream of going all the way in the Champions League as a motivation for continuing to win their domestic fixtures, according to manager Laurent Blanc.
Ahead of their meeting with third-placed Angers on Saturday, the defending French champions are a massive 21 points clear at the top of Ligue 1.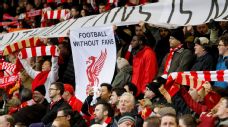 There have been concerns that the players could have problems motivating themselves on the domestic front because they have been so dominant until now.
But Blanc, 50, believes they can use the situation to their advantage ahead of their Champions League last 16 tie against Chelsea next month.
"You have to be conscious that league and cup matches, if we have them, are going to help us to be competitive in the Champions League," he told a news conference before the match with Angers in Paris.
"Of course the team has this motivation and this aim... It's a very, very nice competition and the media say that the Champions League matches make our season.
"It's not only that even if it's an important objective for the club.
"Why not try as well to build up a maximum points advantage so that -- if the objectives are still attainable in April or May -- we can have the luxury of rotating our team in the league and to preserve ourselves only for the Champions League.
"So that's the motivation that we should have in order to continue to win our league matches."
Paris Saint-Germain have won all their games since the winter break without performing as well as they did before Christmas. But Blanc is unconcerned.
"The former France boss believes the work they have been putting over the past few weeks will bear fruit when they host Chelsea in the first leg of their tie on Feb. 16," he said.
"It will come," he said of PSG's form.
"We're in the middle of a second phase of work that is a lot lighter in terms of the workload and a lot more based on our ability to react, sharpness and speed so that we can be near enough to our top level physiologically in February.
"The evening of the 16th at 9 p.m., it will be even better," he said.
"But it's not as exact as that."