Laurent Blanc optimistic over new Paris Saint-Germain contract
Paris Saint-Germain boss Laurent Blanc says he hopes to sign a new contract with the club before they play Chelsea in the Champions League next month.
Blanc, 50, is in the last year of his current deal but in December he hinted that negotiations to extend his stay in Paris were going well.
Following PSG's 2-1 Coupe de France win over Toulouse on Tuesday -- after which Blanc criticised supporters for booing his team -- the former Bordeaux boss was still optimistic that discussions would end swiftly.
"We hope it will be done before [the Chelsea game] and that the club is in the same mood," Blanc told reporters following the game.
"We're discussing, we're negotiating -- in theory we should find common ground."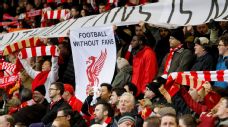 A former manager of the French national team, Blanc has already won eight trophies at PSG since taking over from Carlo Ancelotti in June 2013.
Blanc's agent, Jean-Pierre Bernes, also expects an agreement can be reached before PSG host Chelsea in the first leg of their round-of-16 tie on Feb. 16.
"I think that it could speed up," Bernes told RMC. "I hope that it will be [done] before the Chelsea match.
"In any case the conditions will have to be established before that game. There are elements to be discussed -- like with every contract."