Ibrahimovic: PSG better than last year
Zlatan Ibrahimovic believes the "atmosphere is a lot better" at Paris Saint-Germain than it was in their Ligue 1 title-winning season.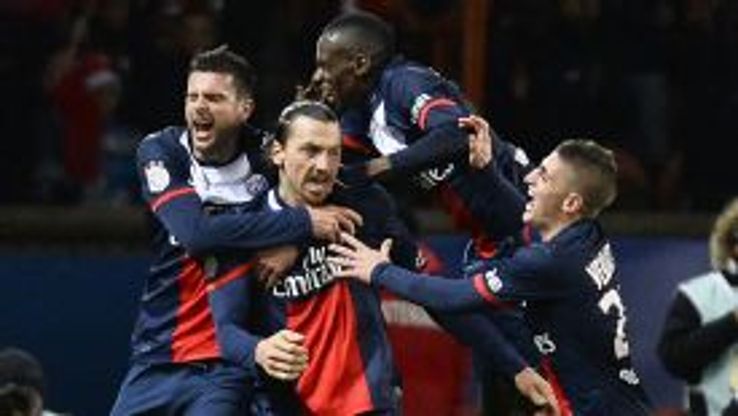 Rumours of dressing room cliques were rife as Carlo Ancelotti guided PSG -- at times painfully -- towards the club's first title since 1994 in May. Following the Italian's summer departure for Real Madrid and his replacement by Laurent Blanc, the French champions have been just as successful but more spectacular.
Though he acknowledged Ancelotti had created a "winning mentality" at the club, Ibrahimovic, 32, told media at his club's winter training camp in Doha the squad's more cohesive performances on the pitch are the fruit of greater unity off it.
"I think we're better than we were last year. We have some very good new players and the players who were here last year have improved a lot," he said. "The players who came here last year feel more at home, they've settled in well. That's very important because the first year for a professional player like Marco Verratti or Gregory van der Wiel, it's not easy.
"I remember my first year at Ajax was really difficult, but now they have more responsibility, they're more comfortable with their game and are more confident. The team is growing and the squad is stronger. I think that we've shown we play with a lot of heart and the atmosphere is a lot better."

The season of good will to all teammates has not been poisoned by major players being forced to sit on the bench, awaiting their opportunity to shake up Blanc's 4-3-3 formation.
Javier Pastore, 24, has had only limited chances to do that in the current season, making just seven starts in the first 19 matches of the campaign. Despite his struggles with form and injury, and reported interest from Italian clubs keen to take the former Palermo star back to Serie A, his agent, Marcelo Simonian, insisted Pastore will see spring at the Parc des Princes.
"It's not planned that Javier Pastore leave PSG in January," he told RMC. "Laurent Blanc plays with a three-man midfield and that system suits him well. For the moment, he isn't in the team because the coach has a great squad, but El Flaco is working to earn himself a place.
"There's no contact with Inter. As far as Roma are concerned, Walter Sabatini likes Pastore a lot. But for the moment, it's not the time to speak about it. Javier's staying in Paris."
Though the squad sits proudly atop the table at the winter break and has marched dominantly into the last 16 of the Champions League, PSG's ambitious owners remain keen to improve still further.
Having made Yohan Cabaye a central part of his France side during his tenure of the international side, Blanc, 48, acknowledged -- once again -- his admiration for the Newcastle United midfielder, who has been strongly linked to PSG since last summer.
"He's a good player. A very good player," he told RMC. "I've always thought that. And I won't say anything more about it. For the moment, I'm very happy with the squad that I have available to me. There will perhaps be movements depending on those who will leave.
"Today, people are talking a lot about the players who are going to arrive at Paris Saint-Germain, but others are perhaps going to leave. We'll see when the time comes because the transfer window isn't open yet."