NASL commissioner Bill Peterson talks MLS and the potential to coexist
The North American Soccer League (NASL) continued its expansion this week, with Rayo OKC the latest club to be unveiled ahead of the 2016 season.
Spanish side Rayo Vallecano is backing the Oklahoma City outfit and along with fellow additions Miami and Puerto Rico, they have helped the NASL grow to 14 clubs.
On Sunday, the current season will conclude when the New York Cosmos and Ottawa Fury face off in the Championship final at the James M. Shuart Stadium in Hempstead, New York (WatchESPN at 5 p.m. ET).
Former Spain international Raul scored the winner for the Cosmos in last weekend's semifinal victory against Fort Lauderdale Strikers. The 38-year-old's ex-Real Madrid teammates this week sent him messages of encouragement ahead of the final match of his career as he looks to round off his yearlong stay in America in style.
Major League Soccer had a 16-year head start on the NASL but a league seen by many as the second-tier division in U.S. soccer has been making steady strides since it began in November 2009.
Last week NASL commissioner Bill Peterson talked to ESPN FC about the positive influence players like Raul, as well as coaches like Alessandro Nesta and owners like Paolo Maldini and NBA star Carmelo Anthony, can have on the league.
In an extended extract of that conversation, Peterson discusses how the league coexists with MLS, as well as local rivalries and building for the future.
Q: Where do you stand in relation to MLS? You've talked about promotion and relegation before.
Bill Peterson: They're not interested and that's fine. We're still interested in the concept and I think as we get closer to 20 teams, we'll explore what the options are.
We don't necessarily need them to participate in order to do it. But we wish them success and hopefully they wish us success as well.
It's a big territory, North America, with over 400 million people. Having multiple leagues, although it may be different from the rest of the world, is beneficial. With so many people and so much territory to cover, just having 32 teams is not going to be enough.
Q: Ultimately it's more than big enough to cope with the two leagues?
BP: There's more than enough space. And it's a game that's built on tribal rivalries. That's why we didn't have any reservations about putting a fourth team in Florida.
First of all there's 20 million people there. Secondly the drive from Miami to Jacksonville is five hours. It's a long way but we see a reaction between the fans. They're able to go to away games. Add that sort of atmosphere and the leadup between the fans before those games in Florida is what you'd expect.
And the media is travelling. Everyone's on tight budgets but they go: "Hey I don't need to go overnight. I'm going to go down to this match and cover it." So we're getting much more media coverage.
More teams, more clusters. You see it in New York -- two MLS teams and the Cosmos. If you're a New York soccer fan you have to pick a colour; either red, green or blue. And once you do that you have to be committed. The relationships and the affinity is getting stronger and that's why having two leagues is the best for everyone.
Q: If it works out, you have the US Open Cup and potentially you can meet MLS teams in continental competition as well
BP: It's just like baseball. The American League and the National League competed against each other for decades. And they were smart enough to play each other at the end, right? So maybe we'll be smart like that one day.
Q: How do you gauge the standard of the NASL at the moment?
BP: The [U.S.] Open Cup settles that a little bit. So it gives us a chance and any time you're playing a one-off, you're not sure it's completely accurate. Some years we've done really well. This year I'd say we weren't really satisfied with the results but that's sport. Sometimes it happens.
But I think we've shown in a short period of time that we're able to compete with anybody in that continent.
We'll continue to focus on getting better on the field. Not to get too far out ahead of ourselves here, but if you look at where we are in the last three years and where we might be in the next five, it's pretty impressive.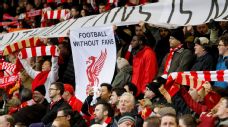 Q: Imposing a certain capacity on stadiums has been mooted. Is that something you would look to do?
BP: We've tried to take a common-sense approach to this. It doesn't make any sense to kick off a team in a 60,000-seater stadium. It doesn't make any sense to build a 20,000-seater stadium before you know what you need.
So we've made it work with whatever is available to start out. And then you see San Antonio build their own stadium. Ottawa now has their own stadium, which they share with the CFL team. Every one of our teams [with the exception of one] is in some level of stadium discussion or development. It's an important piece but it shouldn't dictate who you are. You should be smart about it and build what you can fill.
There's even a discussion that everybody wants to build a 20,000-seater stadium. What if you need 40,000? If you build a 20,000-seater stadium you've just limited yourself in the future.
Q: What is the average attendance?
BP: It's about 6,000. It rolls from about 11,000 in Indianapolis -- that's their capacity -- to less than that in a couple of cities.
But we're OK with that. The cities that have the lower end attendance have really started to address it. They've reorganised themselves to become a little bit more important in their communities and they're going to be fine.
Q. You mentioned that developing rivalries is important. But that takes time ...
BP: The Miami-Fort Lauderdale rivalry will be incredible. Jacksonville-Tampa has already started and we have some long distance ones. Minnesota-San Antonio, for whatever reasons, they just don't get along. And they talk about it a lot -- there's a lot of chatter and they like to beat each other.
And then anybody that plays the Cosmos. They're the team that everybody wants to beat all the time.
Mark covers European football for ESPN FC. Twitter: @mrodden