Pellegrini sorry for Munich mix-up
December 13, 2013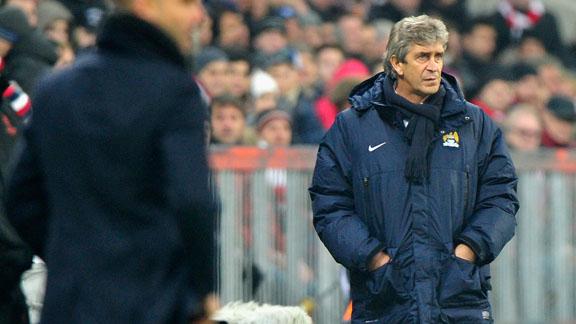 ESPN FC: Asleep at the wheel?
Manuel Pellegrini has apologised for his mathematical mix-up in Munich, where he failed to realise that a 4-2 win would have meant Manchester City topping their Champions League group.
• Hamann: Error was scandalous
• Molyneux-Carter: Top spot guarantees luck
• Zabaleta: We targeted three-goal win
But the City manager insisted he did not have a guilty conscience and felt his side's chances of progressing to the quarterfinals had not been dented by finishing second -- even though that means they will face Real Madrid, Barcelona, Borussia Dortmund, Atletico Madrid or Paris Saint-Germain in the last 16.
City, who had lost 3-1 at home to Bayern Munich in October, required victory by three clear goals or two goals in a high-scoring match to finish ahead of the defending champions, but ended up winning 3-2 to be the runners-up.
And Pellegrini confessed that, after Bayern had rushed into a 2-0 lead with goals from Thomas Muller and Mario Goetze, he forgot that 4-2 would have sufficed for his side.
He said: "It shouldn't have happened. Before the match I knew we had to win 3-0 because we needed one goal more [on aggregate] than they scored here [at the Etihad Stadium]. After they scored the first goal, I continued [thinking] that 3-1 was not enough because they had a better goal difference so I continued [to think] that we had to win by three goals, 3-0 or 4-1.
"After they scored the second goal, I didn't continue thinking about what happened if we scored four goals. That was my mistake, because not many teams score four goals against Bayern Munich. I tried to think better about how to arrange a game that we were losing 2-0.
"First of all I recognise absolutely my mistake, but I don't have a guilty conscience about what we did because we always tried to score the fourth goal."
Pellegrini argued that his substitutions were proof his side were being positive and aiming to get a fourth goal, even if he did not realise its significance.
He said he had always planned to bring off David Silva, who was making his first appearance for a month, but replaced the World Cup winner with striker Alvaro Negredo rather than a defender.
However, he was criticised for using his third substitution to bring on midfielder Jack Rodwell instead of top scorer Sergio Aguero when Edin Dzeko went off.
He added: "Remember that I changed Silva after 70 minutes for Negredo, not for [Vincent] Kompany, not for [Dedryck] Boyata, so we continued with two strikers trying to score.
"In the last five or seven minutes, Bayern Munich had 80 percent of possession so we tried with Rodwell to recover the ball, to attack, not to defend. I apologise for me and the team that we couldn't score four goals against Bayern Munich."
City will discover their opponents in the last 16 in Monday's draw, but Pellegrini insists they will approach the tie with one of the favourites with no fear and no regrets.
He added: "I am not afraid of who we are going to play in the round of 16. I don't believe some teams are weaker than the other teams.
"I believe the 16 best teams in Europe are all exactly the same for us. I think the trust the team has after beating Bayern Munich in their own stadium is much, much more important than being first in the group."