Red Bulls' Luis Robles sets MLS record for consecutive games played
New York Red Bulls goalkeeper Luis Robles set an MLS record for consecutive games played when he took the pitch against the Colorado Rapids on Saturday.
Robles was named to the Red Bulls' starting lineup for the 142nd straight game, breaking the league record set by Chris Klein from 2005-2009.
The 32-year-old Robles has played every league match for the Red Bulls since Sept. 29, 2012.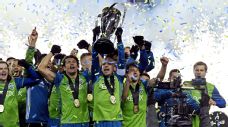 Subscribe to MLS LIVE today!
- MLS LIVE is back with an all-new platform for 2017
- Get the most matches ever, LIVE and ON DEMAND
- Packages start at only $14.99 a month
- Watch MLS on your phone, computer or TV
- Subscribe today at live.mlssoccer.com
"He just has an inner strength and steadiness that I think is great to have in a goalkeeper as a quality," Marsch told the club's website this week. "And I think it's meant that that, along with the preparation and physical work he puts in the gym and physically how he manages himself has meant that he's given himself an opportunity to be successful day after day."
Robles, who was named MLS Goalkeeper of the Year in 2015, has played 12,690 regular-season minutes in his streak. He already has the league record for consecutive starts.
"I think that the record is a result of his entire body of work that he's put into the last 30 years of his life, so he's special," Marsch said.
Follow @ESPNFC on Twitter to keep up with the latest football updates.