Napoli defender Kalidou Koulibaly has 'plenty of suitors' - agent
Napoli defender Kalidou Koulibaly would have plenty of clubs interested in his services if he chose to leave this summer, according to his agent.
Koulibaly, 24, hit the headlines last week when he was the victim of racial taunting by Lazio fans during a Serie A fixture at the Stadio Olimpico last week.
Referee Massimiliano Irrati halted the game against Lazio for three minutes and 40 seconds before conducting it to its conclusion and Lazio were subsequently punished with a partial stadium closure for their next two home games.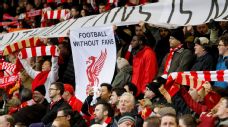 Napoli fans showed their backing for the Senegalese defender at their 1-0 win over Carpi at the weekend by holding up pictures of Koulibaly's face.
And the Senegal international's representative, Bruno Satin, insisted that his client's eye-catching performances on the pitch made him a likely transfer candidate when the market reopens in the summer.
"Koulibaly has become a key member of Napoli's squad," Satin told Radio Crc. "Football is a funny old game and a player like him, with his characteristics, can have plenty of suitors."
Koulibaly thanked the Napoli fans for their support via Instagram, writing: "It was an unforgettable moment for me! Thanks to all the fans who once again made the San Paolo so beautiful with this memorable gesture for me and for the whole world. This win is even more for you! THANKS."
Irrati told La Gazzetta dello Sport that the defender had thanked him for his actions, even though the chanting continued after play had been halted.
"Of course I was disappointed to hear the chants continue as soon as the game recommenced -- it was embarrassing," he said. "The situation was truly embarrassing for anybody who has a conscience and is a good person.
"In any case, it was not in my powers to abandon the game because there are public safety issues that I don't know about. I was pleased when, after the game, [Koulibaly] thanked me, telling me that I had been courageous."