Diego Maradona comparisons of no interest to Napoli star Lorenzo Insigne
Lorenzo Insigne does not want to be compared with Diego Maradona after scoring twice in Napoli's 4-0 win at AC Milan on Sunday night.
The Italy international is arguably in the best form of his career, having played a hand in eight of his side's 16 goals so far this season, scoring five in seven appearances.
His first brace in Serie A helped the Azzurri to victory at the San Siro in front of Italy coach Antonio Conte, who is now set to call on the 24-year-old for the final two Euro 2016 qualifiers.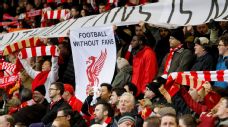 Insigne would prefer not to be taking all the headlines, however, especially not the inevitable ones likening him to Maradona -- one of the Campania club's most celebrated players.
"I'm very happy -- this is my first brace in a Napoli shirt and to score it here, in what I think is one of Italy's most beautiful stadiums, is fantastic," Insigne told Mediaset television. "But please don't compare me with Maradona -- he was a footballing God."
While that may not be the kind of talk Insigne wants to hear, mentioning the word Scudetto is not a problem.
"We can play for it," he said. "We're going to give it our best to go as high as we possibly can."
That view is not entirely shared by his coach Maurizio Sarri, who has banned all talk of his side winning Serie A this season.
"It's still a swear word," Sarri said. "Twenty days ago, my team was being criticised by everybody, who were saying we're only good enough for mid-table.
"Those verdicts were exaggerated back then, just like the enthusiasm is now. I think it's misguided to think that this one clash with a direct rival has any say in terms of the league table, because in that case we should be regarded as relegation material having drawn with Empoli and Carpi and lost at Sassuolo."
Napoli will be able to gauge where they really are after the international break when they host current Serie A leaders Fiorentina.