German preparation makes ending inevitable
RIO DE JANEIRO -- In terms of an ending and a climax, the delivery just couldn't be faulted. Mario Gotze's magnificent 113th-minute finish was entirely fitting of the type of goal that should win a World Cup, from the quality of the control, to the athleticism of the turn, through to the elegance of the strike. It was, without putting too fine a point on it, absolutely world-class.
It was also the perfect distillation of everything that ultimately won this World Cup for Germany: one of their most vibrant young players maximising the talent that the most sophisticated coaching structures had given him, to eventually provide true end product. Again, you can't fault the technical delivery of that ending.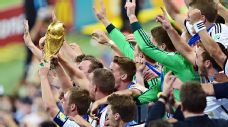 As a consequence of all that, however, it wasn't exactly the most unpredictable ending. There was a sense of inevitability about Germany's deep infrastructural changes ultimately ensuring the team landed on the right result. That affords a grand scale to this great victory, but it doesn't necessarily mean it was in keeping with the repeatedly epic nature of this competition's narratives.
This World Cup had arguably more stunning storylines than any other in history, but this was a break from that, at least in the sense of how "expected" that finish was.
In that regard, the winning goal did fit the final, because this was also more reminiscent of recent tournaments. For all the unique grandeur of the Maracana as a special venue, it was not quite a special World Cup final. In fact, it was rather mid-ranking in the history of these games.
Although it had nowhere near the negativity of 1990 or 2010, it didn't come close to the coruscating crescendo of 1966 or 1986. The initial pace and openness gave way to tension and a gradual decline in dynamism. What made it stand out was the atmosphere and the setting, as well as the winning goal. Gotze was probably the only player who truly took charge of the final, but it said much that he was a substitute, benefiting from fresher legs.
As he went on, manager Jogi Low had a specific message for him: "OK, show the world you are better than [Leo] Messi and can decide the World Cup."
He certainly did the latter. And while the first part of Low's statement was clearly a stretch in order to provide motivation, it was certainly true that Gotze ended up the more decisive force on the night.
Messi, after all, had the opportunity to put Argentina ahead long before Gotze's arrival. The 47th minute represented another inversion of the tournament's general trends. After a campaign in which the No. 10 had maximised the smallest margins, he missed by inches when presented with acres of space for someone of his talent. It should really have been his moment.
Instead, having been put through by Gonzalo Higuain, Messi attempted to swerve the ball beyond Manuel Neuer's reach but succeeded only in swerving it beyond the post. It should not affect the legacy of one of the greats of the game, but it is impossible to overlook the fact that it affected this final and this tournament.
Rather than serve as the campaign in which Messi put forward a decisive argument in all the debate about the greatest player in history, we saw another story unfold: Germany brought to fruition one of the greatest football projects of all time.
That also harked back to the trends of the past few tournaments. With Spain finally deposed, Germany at last did what they have long suggested they would: they replaced the Spanish at the pinnacle, finally stepping into a breach. There was no more grand obstacle; they now represent the benchmark.
Of course, most of their players would rightfully balk at the idea that this was some kind of fait accompli. They worked hard for this, and that showed in every trying moment of this final.
"From the beginning we knew we would not have only 11 players on the pitch," Low said of what was a taxing game. "We would need 14, so everyone had to be in top shape during the tournament. Everyone had to be ready. People can't always play for 90 or 120 minutes at their maximum level. You saw that today. Argentina were becoming more and more tired, so we had players like [Thomas] Muller and [Andre] Schurrle who could go deeper."
The emotion certainly went deep, as Schurrle himself indicated: "This is the best moment of my life. I had to cry because I was so overcome. I couldn't stop it. It was always a dream to become a world champion."
Germany have made it reality, and there is no denying they are a great champion. The trajectory of this team makes that all too clear. A young side have learned along the way to crown a generation.
"We've been together now for 55 days," Low added. "We started this project 10 years ago, so this is the result of many years' work, beginning with Jurgen Klinsmann. We've continued that work and our strength has been our constant progress. We'd not made this ultimate step before, but champions do what they will do. We believed we'd win it, and we worked a lot to achieve it. If anyone deserves it, then this team with [Bastian] Schweinsteiger, [Philipp] Lahm, [Lukas] Podolski, [Per] Mertesacker ... they deserve it. This team deserves it. We showed the best performances for seven matches of all the teams in this tournament, but we're looking back over 10 years of preparation and hard work. This team has developed a spirit which is unbelievable."
That made the ending, however, all too believable. There was no unpredictability, only inevitability.
Miguel Delaney covers the Premier League and Champions League for ESPN FC. Twitter: @MiguelDelaney.