France and Germany's big opportunity
Two teams moving in opposing directions? Maybe. But if the falling side is descending from a far enough height -- or the rising one making the opposite journey from a low enough low -- the result will be far from a foregone conclusion when Germany face France on Friday in the World Cup quarterfinals.
- Spotlight on the World Cup's hottest property
It's not often that you can identify the single, specific moment when a national team changes direction and goes from dud to pretender. But France boss Didier Deschamps had no problem doing just that when asked when Les Bleus turned the corner.
"Nov. 19," he said. "That's what changed everything. That's what changed the story of myself, the players and the staff."
That was the day France, 2-0 down after the first leg, hosted Ukraine in the World Cup playoffs. That first leg was a body blow, not just for the two goals but for the morale-sapping way it came about. Laurent Koscielny conceded a penalty and got himself sent off. The following day, a poll in Le Parisien showed that nearly 90 percent of respondents believed Les Bleus would be watching the World Cup on TV.

France
Germany
Game Details
But Deschamps revolutionised the side for the return leg, making five changes and cruising to a 3-0 win. Just five of the men who started in the 2-0 defeat are likely to start on Friday against Germany in the World Cup quarterfinals.
And it shows. Beginning with that stunning comeback, France are undefeated in nine games, winning seven and drawing two, scoring 28 and conceding just three goals (all of them, curiously, after the 80th minute). This is a team "sur le feu" (on fire).
Indeed, the man who was in charge of France last time around, Raymond Domenech, suggested that the playoff win partially contributed to the current political crisis in Ukraine. It's an absurd -- and offensive -- thing to say, but the incident underscores the difference between the chaos and incompetence of 2010 and the current regime.
Contrast this with Germany. Since 2008, when the world started gushing over Spain, tiki-taka and the endless supply of Iberian talent, they've been the "other" model, the slightly less successful alternative, destined to one day supplant La Roja.
The Bundesliga became the hipster's league of choice, the world marvelled at the likes of Bayern, Borussia Dortmund and beyond. It seemed inevitable. Spain was the aging monarch, Germany the heir apparent.
They had paid their dues, losing to Spain in the Euro 2008 final and, again, in the 2010 World Cup semifinal. Had they not stumbled against Italy in the Euro 2012 semi, they would likely have fallen to Spain, again, in that final. And yet, each time, you felt they were learning and growing. The assembly line of talent kept churning out stars (although, perhaps, too many of the same type). The style and strategy mutated and evolved, from counterattacking directness to studied possession. With each defeat, coach Joachim Low was adding arrows to his quiver.
Now, Spain have -- definitively -- fallen. Now the coast is clear. Now is Germany's time. Except ...
Except it doesn't feel like it. The euphoria of that opening 4-0 win over Portugal gave way to the jitters of that comeback against Ghana and the narrow win over the United States. But it was the last round, when Algeria took them to extra time, that drove the point home: this team is vulnerable. And it's vulnerable in ways that, perhaps, Low had not imagined.
"We haven't been consistent in our performances; we started well, but when you play teams that have nothing to lose and come at you, sometimes it can make things quite difficult," Low said. "It is not always possible to play our best."
Algeria drove home the perils of the current setup. Germany were perhaps a little too willing to force their opponents back, defending well up the pitch and trying to impose their possession game in tight spaces. As with most things in this sport, there are pros and cons. When it works, you squeeze the life out of opponents who are forced to defend desperately and, as they tire, your superior technical ability and creativity manufactures chance after chance.
When it doesn't -- and it did not for long stretches against Algeria -- you end up trying to thread the needle through a packed defence and you either lose the ball with alarming regularity or you get stuck in sterile possession. And most of all, the high defensive line leaves you vulnerable to the counter. Which is why we saw so much of goalkeeper Manuel Neuer sprinting out of his box to clear away danger. ("But [Neuer] can do that," insisted Low. "He could play midfield if he wanted to.")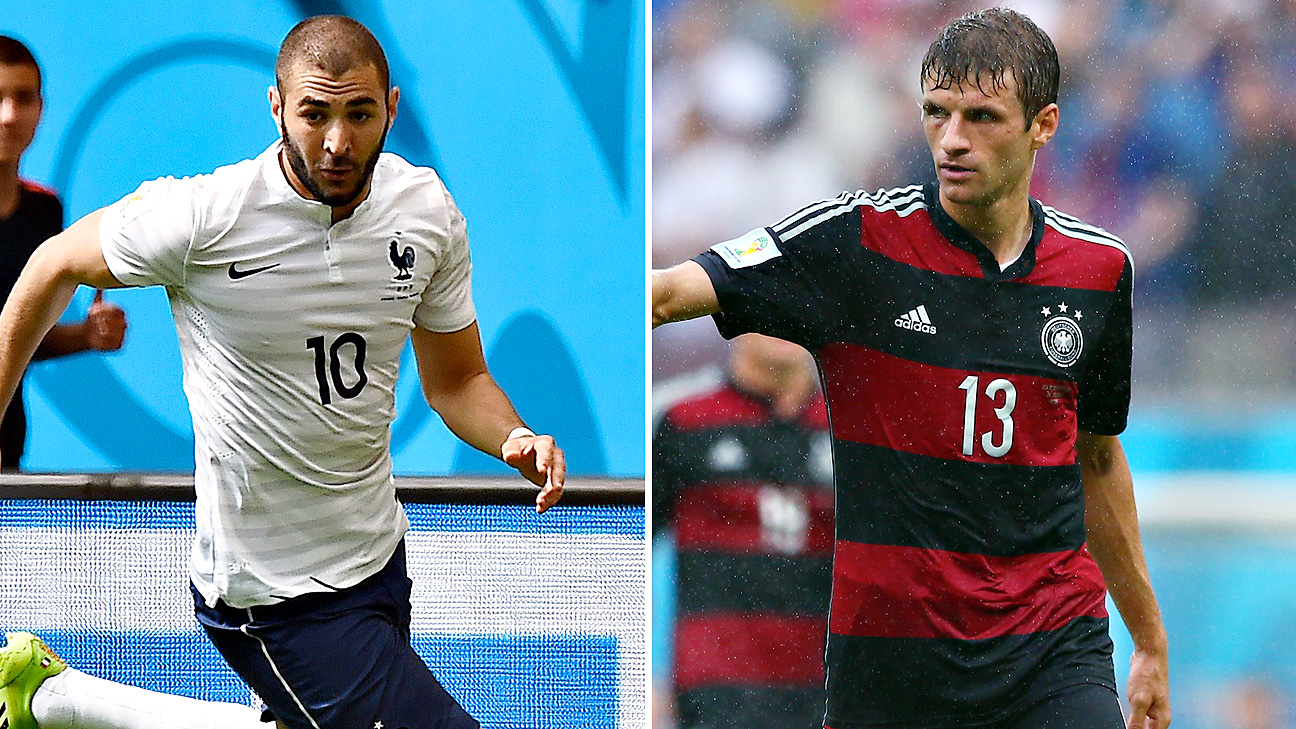 Both Deschamps and Low have big decisions ahead. The France boss has three players competing for a spot in the front three: Olivier Giroud (impressive against Switzerland, less so against Nigeria, but provides set-piece muscle and work rate), Moussa Sissoko (strength and discipline out wide) or Antoine Griezmann (pace and delicate skill). Conventional wisdom would suggest a counterattacking set with Griezmann joining Karim Benzema and Mathieu Valbuena, though both the other options bring different skills to the table.
Low has to decide whether to continue with the four centre-back defence which seemed vulnerable to Algeria's pace or revert Philipp Lahm into the back four. Or, as some German media speculate, bring in Kevin Grosskreutz (a recycled left-winger who nevertheless did fine in half a season at right-back for Borussia Dortmund). Again, pros and cons. Give up Lahm's leadership and passing in midfield for some extra pace and natural width at the back? That's what you call a cost-benefit analysis.
"France are climbing up the wall, ready to sneak through that window that Germany have been trying to beat down for years."
Up front, too, there are choices. Neither Mario Gotze nor Mesut Ozil shone against Algeria. Andre Schurrle, on the other hand, looks to be in great form, while Miroslav Klose, now 36, is the kind of genuine striker this team could use once it abandons its "false nine" pretences. The hunch is that Low is leaning towards Ozil and Schurrle to join Thomas Muller.
If you like your metaphors, it's all about windows. France are climbing up the wall, ready to sneak through that window that Germany have been trying to beat down for years and which, with Spain no longer holding it shut, is now open. But then, there are also windows of opportunity, and you wonder whether Germany's is starting to close. (Or, at least, Low's, who is now on his fourth major tournament, the fifth if you count 2006, when he was an assistant to Jurgen Klinsmann.)
France had their turning point on Nov. 19. This could be Germany's. Win and you're 90 minutes away from the promised land of a World Cup final, a place they've been just once in the past 24 years. Lose and the status of juggernaut-in-waiting they've enjoyed since 2008 won't mean very much. In fact, it will have become rather tiresome, particularly if France win it all or come close, leapfrogging them to the title of heirs to Spain's crown.
Gabriele Marcotti is a senior writer for ESPN FC. Follow him on Twitter @Marcotti.