Chivas and Angel Zaldivar get the better of crosstown rivals Atlas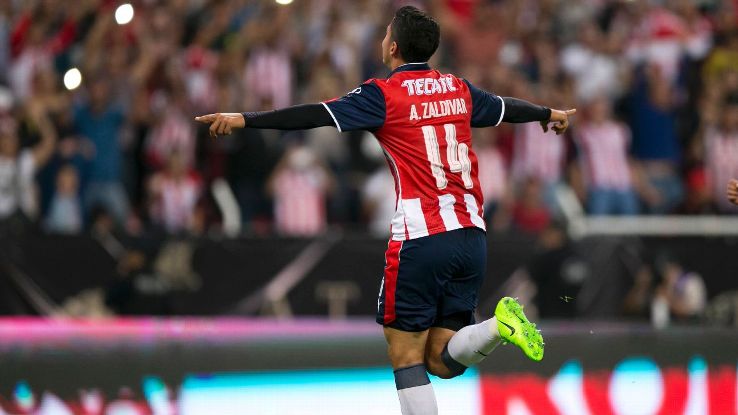 Toluca tops the Liga MX pile after six rounds of matches of the 2017 Clausura, while Chivas took the Clasico Tapatio against city rival Atlas.
Here's what you need to know:
1. Chivas ruin Atlas' hot streak
Atlas' 12 games without losing at Estadio Jalisco came crashing to a halt Saturday, with the Guadalajara side going down 2-1 to local rivals Chivas in the Clasico Tapatio.
Mexico's oldest rivalry was one-sided, in truth, at least until the last 20 minutes. Despite Atlas fans making up the majority of the crowd inside Estadio Jalisco, their team was outplayed on the pitch.
The trouble with Atlas is that almost all their build-up play goes through captain Rafa Marquez, and when "El Kaiser de Michoacan" was ruled out with a right hamstring complaint ahead of the game, Los Rojinegros' chances of getting a result instantly diminished.
Atlas
Guadalajara
Game Details
But that shouldn't take anything away from Chivas' display. The team may have been fortunate to win a penalty just before the half-hour mark and capitalized on an absolute gift from Atlas keeper Oscar Ustari in the 40th minute to go 2-0 up, but this was arguably the best Chivas have played this season.
In front of 53,219 and against an Atlas team fielding eight Mexico-born players in its starting XI, Chivas took control of the match from the start through central midfielders Orbelin Pineda and Jose Juan "Gallito" Vazquez. But it was in the final third where Chivas' improvement could really be seen.
The inclusion of Angel Zaldivar in place of Alan Pulido as Chivas' center-forward seemed to make the side click. Isaac Brizuela was a menace down the right, Eduardo "Chofis" Lopez was a spark on the left and Rodolfo Pizarro floated off Zaldivar. The result was a fluid attacking unit that Atlas struggled to cope with, even if legions of fans were given a brief flicker of hope of pulling off an unlikely result when Martin Barragan reduced the deficit late on.
Moving forward, Chivas coach Matias Almeyda will have to choose between Pulido and Zaldivar -- a player Mexico coach Juan Carlos Osorio really likes -- but on the basis of Saturday's display it is the local striker Zaldivar who deserves to keep his place for next weekend's Clasico Nacional against Club America.
Atlas fans will argue that the officials gave them very little on Saturday night, but the truth is that Chivas have a better side right now and are a match for any other team in the Liga MX when they play with the intensity they showed for most the Clasico Tapatio. Atlas, meanwhile, should be seriously concerned with the relegation fight in 2018, for which they are in last position.
Teams walking onto the pitch. Fewer better sights in the Mexican game than a full Jalisco for Atlas vs. Chivas. #ligamxeng pic.twitter.com/HPGoOk8dGf

- Tom Marshall (@mexicoworldcup) February 12, 2017
2. Toluca leads Clausura on Centennial
Toluca tries so hard to be one of Mexico's "big teams." The club's Twitter profile insists it is "the winningest team in Mexican football in the last 20 years."
On Sunday, Toluca celebrated its 100th anniversary and the 1-0 victory over Veracruz sent Los Diablos Rojos to the top of Liga MX. It was fitting to see the institution end the weekend in first position.
Toluca currently sits on 10 titles, more than Cruz Azul's eight and Pumas' seven -- two of Mexico's "big four" -- and behind only Chivas (11) and Club America (12). Coach Hernan Cristante is charged with guiding his well-balanced team to the championship this season and on Sunday's performance against tough opposition, it isn't an unrealistic goal.
3. Monterrey with statement win
Monterrey remains undefeated over the six Liga MX games this season, but hadn't really convinced until Saturday's 2-0 victory over Pumas.
Los Rayados' most obvious problem last season was converting chances and coach Antonio Mohamed would've been comforted to see his side eek out victory in a fairly even match through superior finishing over a Pumas team that has been generating momentum and expectation this season.
The confidence gained from these sorts of victories is significant and with a constant string of rumors about locker room unrest, a good temporary cure is usually picking up points.
#PorSiNoLoViste G⚽⚽⚽L de Franco Jara@Tuzos 1-0 @TigresOficial#J6CL2017 #LIGABancomerMX
⚽ #SienteTuLiga ⚽ #PorLaEducación pic.twitter.com/o4AWZmLblf

- LIGA Bancomer MX (@LIGABancomerMX) February 12, 2017
4. Apertura finalists continue to struggle
Over the other side of Nuevo Leon's footballing divide, things aren't so rosy for reigning champion Tigres, who fell 1-0 away to Pachuca on Saturday.
Only Leon and Puebla are propping them up from the foot of the Clausura table and only Queretaro has scored fewer goals. The championship hangover is real and Tigres' all-star strike-force has failed to score a single goal in five of its six games this season.
Coach Ricardo "Tuca" Ferretti and the fans are not happy, but at least his position is safe, which can't be said of Ricardo La Volpe, who helped steer Club America to the Clausura final to face Tigres.
La Volpe's side could only manage a 0-0 draw against a struggling Puebla team on Saturday in Estadio Azteca. The really concerning thing is that America's best player was goalkeeper Agustin Marchesin.
There have already been calls for the Argentine coach to be fired and if Las Aguilas can't manage to get a result in Guadalajara against Chivas in the Clasico Nacional next Saturday, the writing may be on the wall for La Volpe.
5. Cruz Azul's search for a win goes on
Cruz Azul fans -- as well as many pundits -- forecast an uptick in the team's fortunes when Spaniard Paco Jemez was hired ahead of the Clausura. The side wasn't supposed to be on a seven-game winless streak in mid-February.
Sunday's 2-2 draw on the road to Santos Laguna highlighted similar themes as previous games La Maquina has failed to win: the defense is rocky. Even though the team played well at times against Los Guerreros and took the initiative, there isn't a solid base and teams are happy to sit back against them and exploit its deficiencies on the counter.
More than anything, the side needs a win to instill confidence and the good news for La Maquina in that regard is that next week it hosts an Atlas side that hasn't picked up a victory away in almost a year.
Tom Marshall covers Liga MX and the Mexican national team for ESPN FC. Twitter: @MexicoWorldCup.