Desperation of Matias Almeyda's Chivas grows in Clausura Week 5
Andre-Pierre Gignac is on fire, Santos Laguna is looking for another win, and of course, Pachuca is at the top of the league table. With this and more in mind, let's check out what to watch for in Week 5 of the 2016 Clausura:
Gignac adding to his goal total
It's early days in the competition, but Gignac is well on his way to having another extraordinary season with Tigres. With a hat trick in last week's 3-1 win over Leon, the French striker is now the leading goal scorer in the Liga MX with a total of four. It's also important to note that Gignac was sick in Week 3 and could have potentially amassed more goals to his already impressive tally.
On Friday, the 30-year-old will have another opportunity to find the back of the net when Tigres visit Chiapas. Los Jaguares have the attacking potential to sneak a couple past the visitors, but it seems highly unlikely that their defense -- or any defense in the league -- could stop Gignac.
Chiapas goalkeeper Oscar Jimenez will have a massive test when the Frechman and his Tigres come to town.
Santos Laguna upsetting America at the Azteca
Santos Laguna have an excellent chance to knock over America on Saturday. Las Aguilas have struggled at the Estadio Azteca and haven't collected a regular season victory at home since Oct. 3.
Even with a 3-0 win over Dorados last week, America manager Ignacio Ambriz is still likely on the hot seat after failing to reach early expectations in the Clausura. Seven points from four games isn't a bad start for most clubs, but the Mexico City team tends to have the highest of expectations and will have little patience with the manager who oversaw America's tumble from December's Club World Cup.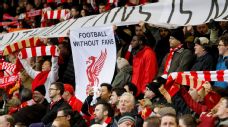 Considering America's bad record at home and dwindling confidence in Ambriz, Santos should feel confident for the upcoming match. Los Guerreros have won three games in a row and are starting to look like a cohesive unit going forward.
America, and Ambriz, should be cautious against the invigorated opposition.
Dorados earning another loss
There are only three things certain in life: death, taxes and Dorados struggling. The relegation candidates have lost every game in the Clausura and have yet to even score a goal. With few ideas left, it seems almost impossible that the last-placed team will be able to earn at least one point in Saturday's match at Monterrey.
Los Rayados have won three of their four games in the tournament and have become dangerous in an attack lead by Uruguayan Carlos Sanchez and Argentine Rogelio Funes Mori. Dorados, on the other hand, haven't scored a goal since Nov. 7 and haven't had an away victory since July 31.
Dorados have installed Jose Guadalupe Cruz as the new manager ahead of this match, but the threat of relegation still continues to hover above the team.
Chivas' desperation for a win
Because of Chivas' proximity to the bottom of the table, relegation rumors will justifiably continue, but it seems the team will be saved by the awful performances of Dorados. That being said, there is no denying that Los Rojiblancos have had a bad run of form in recent games.
Manager Matias Almeyda has only one victory in his last 10 league matches and is well aware of the fickle attitude that owner Jorge Vergara has for coaches. Another loss this weekend might prove to be detrimental for the manager who only took over in September.
Will Almeyda be able to pull off at least a point at home against Toluca on Saturday? If the Argentine can better organize the defense and have a couple of key players like Omar Bravo and Carlos Pena finally wake up and perform, there is hope for the team in the Estadio Omnilife.
Until then, Chivas fans will have their fingers crossed for more problems for Morelia and Dorados.
Pachuca maintaining their lead
Los Tuzos are deservedly at the top of the league table. Victories against America and Monterrey have proven that the roster can compete with some of the league's best this season.
On Sunday, Pachuca will look for a fourth consecutive win in the match against 2015 Apertura finalists Pumas. The argument could be made that the game is a potential preview of the playoffs, but Los Felinos have only been able to win one match in the Clausura.
With more momentum behind them, a win seems likely for the Pachuca squad that has been supported by the likes of recent Mexico call-ups Hirving Lozano, Erick Gutierrez and Rodolfo Pizarro. The list goes on for Pachuca, with others like Omar Gonzalez, Franco Jara and numerous others who have thrived in the past few games.
Keep an eye on the Pachuca roster that has plenty of energy and drive in this tournament.
Cesar Hernandez covers Liga MX and the Mexican national team for ESPN FC. Twitter: @cesarhfutbol.