Liga MX Power Rankings -- Apertura 2014 Preview: Leon still on top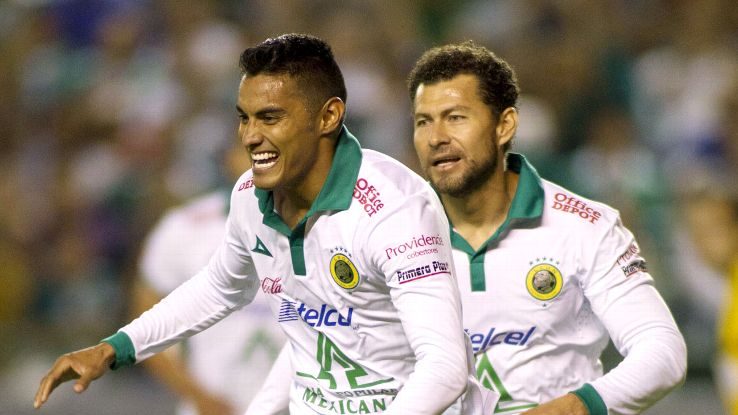 World Cup fever is just wearing off, but a new season is already upon us in Mexico this weekend, with the Liga MX Apertura 2014 kicking off Friday.
There has been plenty of transfer movement ahead of the new season, but the side out in front is still bicampeón Leon, who will be aiming for a historic third consecutive championship.
1. Leon -- Luis Montes' leg break ahead of the World Cup was a cruel blow and means La Fiera will be without a key player for the Apertura. However, the exodus of Carlos Pena and Jose Juan Vazquez doesn't look like happening, Gustavo Matosas is still in charge and South Americans Yamilson Rivera and Marcos Caicedo have been brought in to boost the attack.
2. America -- The signings of Oribe Peralta, Michael Arroyo and Paolo Goltz compensate for Francisco "Maza" Rodriguez, Juan Carlos Medina and, possibly, Raul Jimenez heading through the exit door. Antonio Mohamed has had six months as coach of the mammoth club under his belt to mold the team into what should be a powerful unit capable of a title challenge.
3. Cruz Azul -- Rodriguez is in at center back, Marco Fabian is still onboard and there is no reason that Luis Fernando Tena's Cruz Azul shouldn't be challenging for first place in the regular season like last time out. Just don't mention the playoffs.
4. Toluca -- The signing of Lucas Lobos could be inspired. Lobos needed a change of scenery from Tigres and Los Diablos Rojos had to replace Sinha. Jose Cardozo remains one of the younger Liga MX coaches on the rise and Toluca is a solid bet for the liguilla.
5. Santos Laguna -- The loss of Peralta is significant, but the base of the team is still there and 21-year-old Cape Verdean forward Djaniny Tavares looks like a box of tricks who could set the league alight alongside Darwin Quintero.
6. Atlas -- An impressive offseason from a club revitalized by money from TV Azteca. Juan Carlos Medina, Aldo Leao and Rodrigo Millar are arguably the best midfield combination in Mexico and with Maikon Leite down the wing, a lot should be expected, especially if new striker Luis Caballero clicks.
7. Pachuca -- There is no way around the fact Enner Valencia's departure creates a huge hole. He was the best player in the Liga MX Clausura 2014. Exciting youngsters like Hirving Lozano, Rodolfo Pizarro and Jurgen Damm remain, but the real key to Pachuca's fortunes is the club's hierarchy going out and buying a top class foreigner to replace Valencia.
8. Monterrey -- Dorlan Pabon returns from Spain, but the most important boost for Los Rayados is Humberto Suazo being fit and with a full preseason behind him. Monterrey, player for player, remains one of the best sides in the Liga MX. A title challenge is possible, if they can put it together on the pitch, something that has been problematic in recent seasons.
9. Chivas -- The threat of relegation looms and has forced owner Jorge Vergara to invest in veterans like Fernando Arce, Angel Reyna, Carlos Salcido and David Toledo. The result should be a much more solid outfit this Apertura.
10. Pumas -- The midday Sunday kickoff time remains a major plus for Pumas, who have only brought in attackers Matias Britos and Eduardo Herrera ahead of the new season. It's difficult to see the Mexico City club being much different than last season.
11. Tigres -- It's been a frustrating time for Tigres fans, who have seen one of the most talented squads in the Liga MX fail to click. Incoming Marco Ruben, Joffre Guerron, Egidio Arevelo, Herculez Gomez and Nahuel Guzman should bring new options, but Ricardo Ferretti needs to see an improvement quickly if there isn't going to be sustained pressure from fans demanding his exit.
12. Tijuana -- There's a new look to Xolos as Cesar Farias has revamped his squad with veterans like Juan Arango, Alfredo Moreno and Dayro Moreno. Once again, Tijuana will be a difficult team to beat, but may lack the all-round quality of those in the top half of the table.
13. Morelia -- The losses of Aldo Leao and Jefferson Montero (still not confirmed but very likely) are massive and Morelia fans would be right to be unhappy at the way resources from owner TV Azteca appear to be flowing down the highway to Guadalajara club Atlas.
14. Queretaro -- Given the circumstances, Ignacio Ambriz has worked wonders with Gallos Blancos and the team will once again be competitive. Sinha and Danilinho are the big names coming in.
15. Chiapas -- Another new season, another overhaul of the squad. New players like Edgar Duenas, Andres Andrade, Sergio Perez, Luis Robles, Franco Arizala, Christian Bermudez and Diego de la Torre should mean Chiapas is a decent side, but it is difficult to see them competing consistently with the bigger clubs.
16. Puebla -- Owned by the brother of the Chiapas owner, Puebla has also revamped its entire squad. Cuauhtemoc Blanco should earn the club more column inches, but, again, it is difficult to see Puebla near the playoffs.
17. Universidad de Guadalajara - Newly-promoted Leones Negros should draw big crowds at the Estadio Jalisco and be a good addition to the league. Whether they have the quality to compete is doubtful, even if Fidel Martinez, Felix Aruajo, Leandro Cufre and Marc Crosas were smart acquisitions.
18. Veracruz - The loss of Angel Reyna was a big blow and while the likes of Leobardo Lopez, Edgar Andrade and Wilson Tiago should bring a solid spine, a relegation battle is likely in Veracruz's near future.