Clasico victories highlight America's superiority over Chivas in Liga MX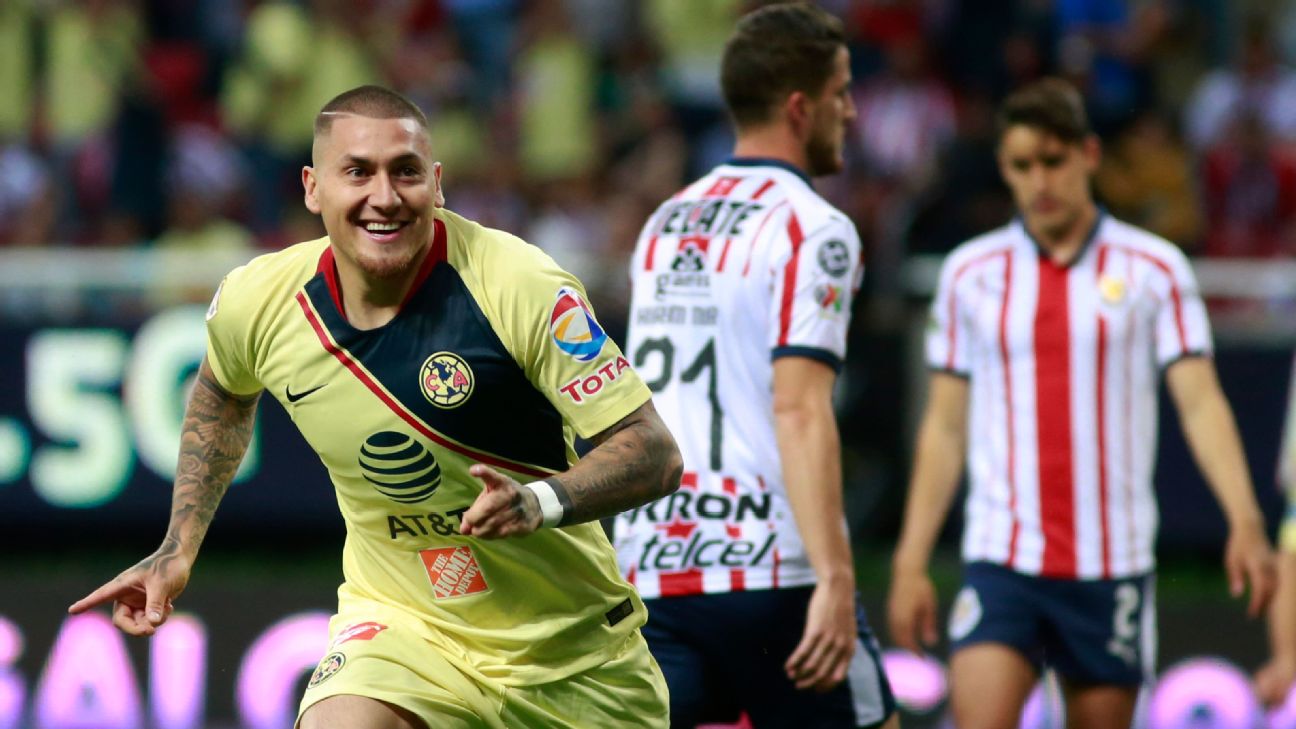 GUADALAJARA, Mexico -- Club America manager Miguel Herrera was reluctant to twist the knife after his team's comfortable 2-0 victory over Chivas in the Clasico Nacional on Saturday, but it would have been easy to do so.
The win, combined with Las Aguilas' 2-0 Copa MX quarterfinal victory last Wednesday, capped a nightmare week for Chivas. And Herrera, bringing his team to face Chivas in Guadalajara for the first time since winning title No. 13 last December, had the ammunition to rub in his team's superiority, but opted not to.
"I can't say that we are much better than them," Herrera told a news conference.
Circumstances in the first half certainly didn't suggest Chivas' would get a result. The decision by coach Jose Cardozo to take off Alexis Vega and replace him with Guillermo Madrigal after half an hour was made to look unwise when Jesus Molina received a red card in the 37th minute. Then Alan Pulido's injury just before half-time was another blow.
But the central take from the Clasico has to be that America is a level above Chivas right now. It's not a chasm, but the gap is evident. Chivas are a mid-table team hoping for the playoffs and going through a bad spell; America is reigning Liga MX champion gearing up to make a realistic defense of its crown.
The final whistle on Saturday was greeted with chants of "Cardozo out." Four games without a goal and two wins in Chivas' last 12 matches will do that. And the Paraguayan has made some strange decisions: like resting players last Wednesday, starting winger Alejandro Zendejas on Saturday, and then subbing out Vega early.
But the one thing that can be salvaged from a Chivas point of view is that the team didn't give up. Even if it did take 85 minutes to record a shot on target, at home, against their biggest rival, Chivas were at least still pushing as the final whistle rang out.
"[The players] have to leave with their heads held high, they gave everything, there's no recrimination for them," said Cardozo when asked about his postmatch message to the players.
Applauding effort, however, is not good enough for a club that has 12 league titles, boasts a stadium that elite teams in Europe would be proud to play in and claims to have 40 million fans. The bottom line is that the product on the field isn't matching the size of the institution at present.
How many of Chivas' players would get into Club America's starting XI? Perhaps Isaac Brizuela? Maybe one or two others? It certainly isn't many.
Chivas have fallen behind America since that 2017 Clausura title. Of the XI players that started the second leg of that final against Tigres less than two years ago, eight have left the club. Perhaps a clean-up was required -- which is the word being filtered out from the club -- but those title-winning stars haven't been adequately replaced, with the assumption being that the club's finances are not as healthy as they once were.
It contrasts sharply with Club America's reaction to winning the 2018 Apertura.
Las Aguilas lost Diego Lainez, Cecilio Dominguez and Joe Corona over the winter, but went out and bought Chile international striker Nico Castillo. The 26-year-old is proven in Liga MX, certainly wasn't cheap and scores the type of goals like the diving header that put America 1-0 up on Saturday. America also added Nicolas Benedetti, a 21-year-old Colombian midfielder set for a big future. They are the type of signings that big clubs make, or at least should do.
Chivas tightened the purse strings after their title, while America improved its starting XI; those contrasting realities played out over the 180 minutes as the teams locked horns this week.
After the game, Herrera and Cardozo sidestepped the central issue, but the reality was obvious: America is much closer to winning title No. 14 than Chivas is to lifting No. 13.