Chivas deserve to be top of Liga MX. PLUS: Juan Pablo Vigon stars for Atlas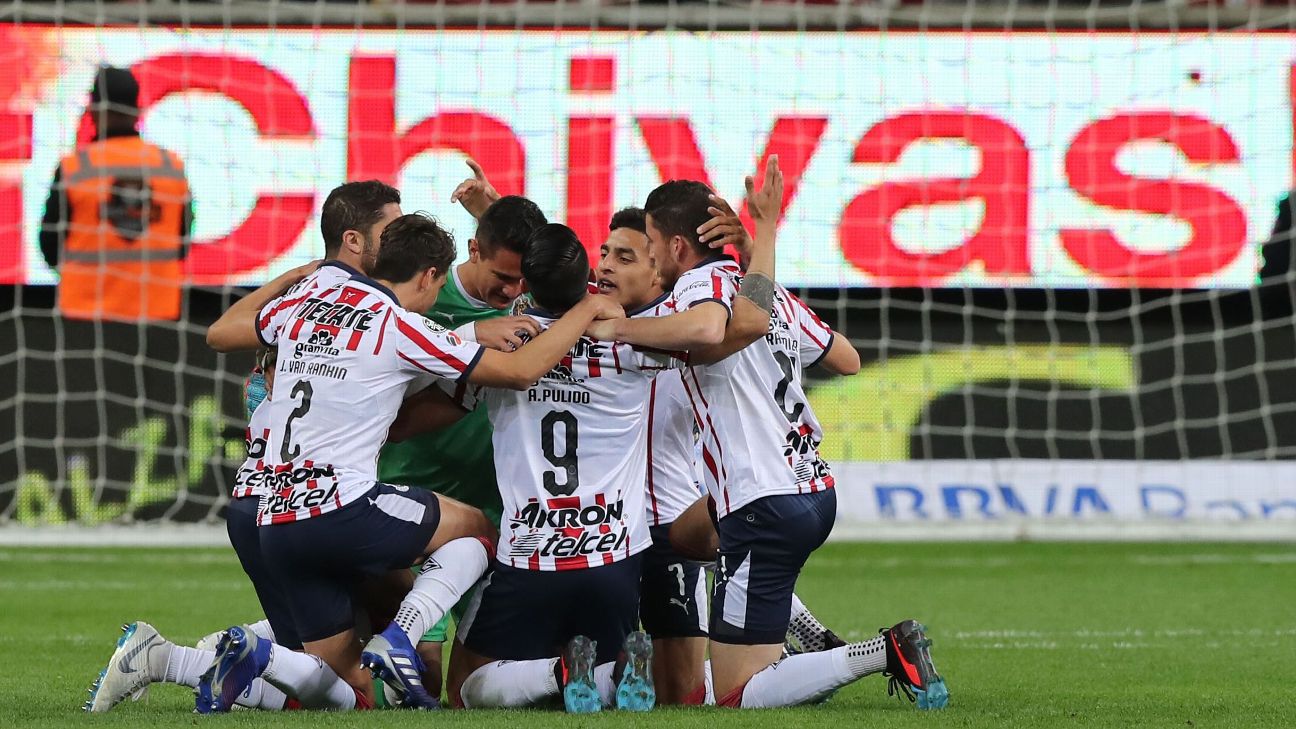 GUADALAJARA, Mexico -- Chivas fans, pinch yourselves, your team is clear at the top of Liga MX.
If that might sound slightly patronizing, cast your minds back just one month to Chivas losing on penalties to Esperance de Tunis to finish dead last in sixth of the Club World Cup. The proud all-Mexican club not only embarrassed itself, but also Liga MX and CONCACAF. Now fast forward to Sunday and Chivas defeating Toluca 1-0 in Estadio Akron to move two points clear at the top of the league after three games. Los Rojiblancos look like a different team.
Unity in the squad shone through on Sunday. The players are fighting for each other and playing for Jose Cardozo in a way we haven't seen since the Matias Almeyda days.
That unity could be seen after Alan Pulido netted the game's winner with a fine strike in the 57th minute. The team huddled around goalkeeper Raul Gudino to pray for the unborn baby he and his wife recently and tragically lost.
Almeyda-era players like Edwin Hernandez, Carlos Salcido, Angel Zaldivar, Orbelin Pineda all moved on after that Club World Cup and Chivas' decision to roll the dice on sweeping chances appears to be paying off. Former Monterrey player Jesus Molina has been the calm and experienced head in midfield that Chivas lacked, Hiram Mier has stepped into central defense smoothly and Alexis Vega is striking up a promising partnership with Pulido. Even established players like Miguel Ponce, Pulido and Isaac Brizuela seem to have found an extra gear in 2019.
Chivas did require a degree of luck to get past Toluca, when Enrique Triverio looked to have headed the ball over the line in the 75th. The goal was given, then ruled out, then referred to Video Assistant Referee and then ruled out for a second time.
Toluca coach Hernan Cristante complained about the "big teams" benefiting most from VAR but the truth is that there was no conclusive angle shown at the time of writing, with the decision the correct one with the evidence available to the officials. Even a photo Toluca posted intended to end the debate wasn't clear.
.@TolucaFC tweeting out a photo #ligamxeng pic.twitter.com/DWrSshTrD5

— Tom Marshall (@mexicoworldcup) January 21, 2019
But while the argument over the goal will roll on during the week, it's worth remembering that Chivas were good value for the win and have yet to concede a goal this season.
Elsewhere in Liga MX this past weekend, Pako Ayestaran was fired from Pachuca after the club's 3-0 loss to Club America in Estadio Azteca. A source close to the manager told ESPN that the Spaniard was surprised, given how early it is in the season, the fact the new players like Edwin Cardona needed time to settle in and that the team had won its previous two games in 11 days prior to the loss.
There was also an important 1-0 win for Cruz Azul away at Tigres on Saturday to extend Ricardo "Tuca" Ferretti's winless streak against Pedro Caixinha to 10 games in Liga MX. Tigres had 68 percent of possession, but only one shot on target as Caixinha set up Cruz Azul to smother the opposition. It worked exactly as planned.
Pumas' troubles continued as the team exited the field to boos after Atlas came from 2-0 behind to tie 2-2 in Estadio Olimpico Universitario.
Team of the Week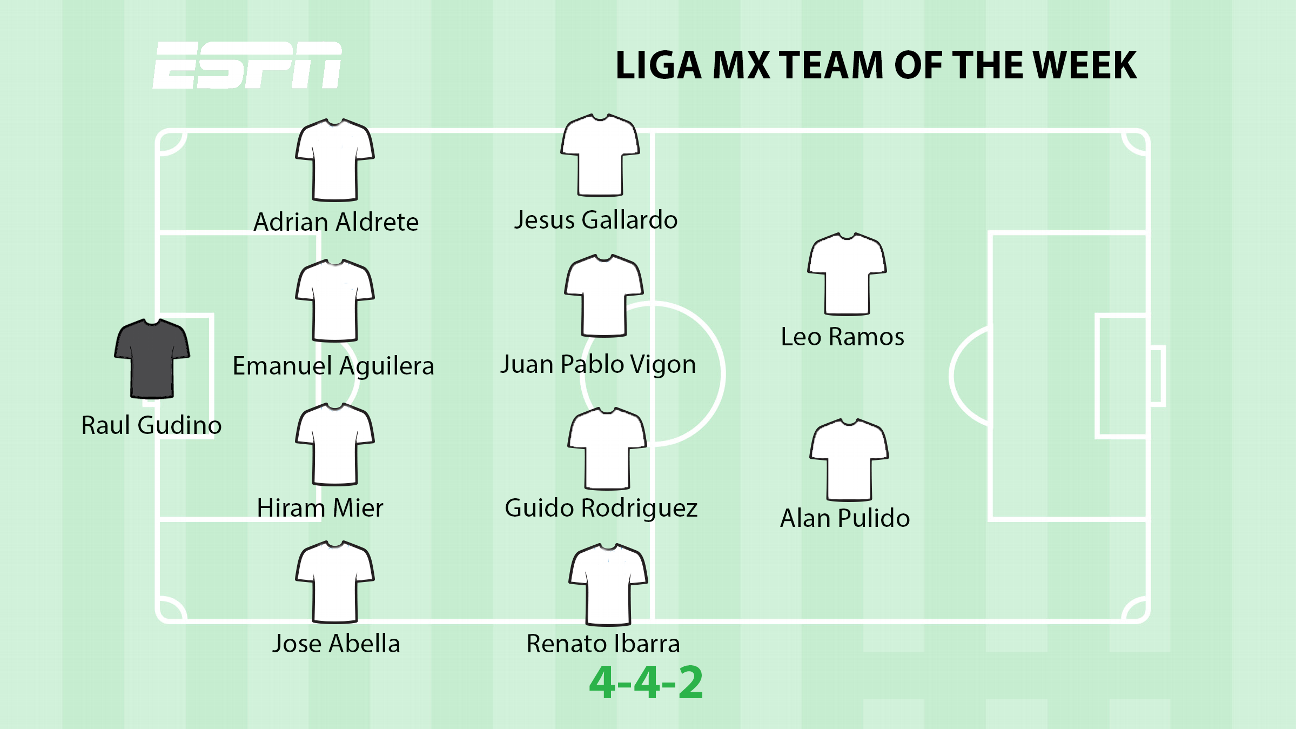 Player of the Week: Juan Pablo Vigon
It's easy to pick a midfielder who scores two goals as the player of the week, but it wasn't just the goals that make Vigon the choice here. The 27-year-old was a man possessed and led Atlas' comeback in a performance that showed his commitment to the cause.
Goal of the Week: Maximiliano Meza
Sometimes it's not the quality of the goal that takes the prize, but the circumstances surrounding it. Argentina international Meza came on against Queretaro for his second Liga MX appearance with Monterrey already down to 10 players and the score level at 1-1.
With time running out, Rayados fans would surely have taken a point, but not Meza, who used minimal back-lift from the edge of the area to drill a shot into the top corner and hand Monterrey a 2-1 victory.
GOLAAAAAAZO GOLAAAAAZOOOOO🔥🔥

De último minuto Meza le dio la vuelta en el marcador👏🏻👏🏻

🐓@Club_Queretaro 1-2 @Rayados🤠 pic.twitter.com/DzKw2er8HK

— Univision Deportes (@UnivisionSports) January 20, 2019
Otra superlativa of the Week: Guido Rodriguez
It's hard to really shine as a holding midfielder, but it's been difficult to not notice Rodriguez of late. It was another player of the game performance from the 24-year-old in America's 3-0 win over Pachuca and not just because of his early goal.
It's his timing, positioning and intelligent use of the ball. If you were to pick one Liga MX player who could comfortably play at a high level in Europe at present, Rodriguez would top the list.