Landon Donovan in Liga MX kicks off new era in US-Mexico rivalry
In March of 2013, during the U.S. men's national team's visit of Mexico City for 2014 World Cup qualification, accredited media members were treated to group sessions with individual players before the game to allow for multiple chats between players and reporters. While I sat in silence, listening to a player answer a question I had asked, the conversation behind me grabbed me completely.
"No question about it, I don't like them. I want to beat them every time, I want to kick their butts. But playing there? In Mexico?" There was a pause, and a shift in tone. "That league is for real."
The player making the remarks was DaMarcus Beasley. At the time, the legendary U.S. full-back/midfielder was playing for Puebla, a traditionally mid-table team that has spent the better part of the last decade escaping relegation. Soon others were aware of the discussion, listening intently or adding their opinions. A few tables away sat Herculez Gomez, a Liga MX Golden Boot winner with Puebla. Gomez nodded at Beasley's assertions and his praise of the league.
Only a few years earlier, Mexico's domestic circuit had relaunched the forward's career after it had stagnated in Kansas City. After a 41-game stretch in which he had scored one goal, Gomez bagged 10 in 15 matches with Puebla, sharing the top scorer award in the Bicentenario 2010 tournament with Peru international Johan Fano and Javier "Chicharito" Hernandez.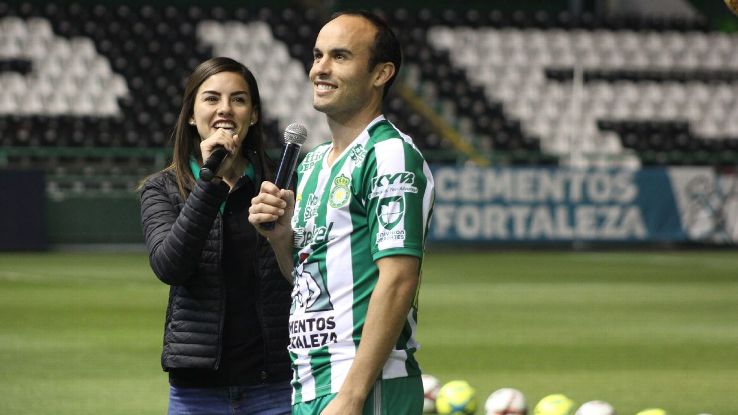 I later asked Gomez if he thought other big-name players on his national team would dominate Mexican soccer. I batted around a few names, mentioning that Club America had not-so-secretly wanted Landon Donovan since 2009. He chuckled and shared a look with Beasley.
"Of course this isn't a one-time deal," said Gomez, now an analyst with ESPN. "You're going to see more U.S. players in Liga MX as time wears on. Even when I was down there, I had players ask me what life was like in Mexico. I still have it happen."
Donovan, of course, is now a Club Leon player, effectively coming out of retirement a second time to "fulfill a dream" of playing in Mexico, a country with which he has a long and complicated relationship.
Atmosphere building in Estadio Leon ahead of @landondonovan's presentation. The letters "L" and "D" have been given out to the public, as well as small 🇲🇽 and 🇺🇸 flags. #ligamxeng pic.twitter.com/N6WcZl401R

— Tom Marshall (@mexicoworldcup) January 16, 2018
The flow of national team-caliber players from both the U.S. into Mexico, and vice versa, isn't new. The 1990's featured Eric Wynalda and Marcelo Balboa travelling south to play for Club Leon. Tab Ramos was loaned out to Tigres while Cle Kooiman became the first American to captain Cruz Azul.
However, Major League Soccer made its own waves, starting their league with a bang by bringing Jorge Campos, Carlos Hermosillo and even Hugo Sanchez into the fold. Other Mexico legends like Claudio Suarez and Cuauhtemoc Blanco would later venture up north, setting a pattern for both nations.
And there lies the difference in approach between both countries. Liga MX had always made a play for lower-profile players and in recent years, it has dedicated itself to developing Mexican-American talents who almost always choose to play for their northern neighbors. Greg Garza, Paul Arriola, Joe Corona, William Yarbrough and Jose Torres are just a handful of examples of the strategy.
Meanwhile, MLS continues to rock the market with big-name signings in their attempt to gain fans, market share and increase their reputation as the economic stronghold on this side of the Atlantic. This strategy has yielded the current landscape in which Giovani dos Santos, Jonathan dos Santos and Carlos Vela left Spain to play in Los Angeles, while Corona went from San Diego State University to Tijuana, Sinaloa, Veracruz and now, Mexico City.
Simply put, Landon Donovan doesn't fit the profile of a usual "American in Mexico" signing. Though Donovan is nearly 36 and hasn't played a competitive match in 14 months, the reality of the United States' best-ever player coming to Mexico has dominated the news cycle. But Liga MX's willingness to go after big names has escalated as an arms race takes place at the top of the league.
Tigres and Monterrey have built obscenely great squads due to their spending on big names to fill nearly every position. The signing of France striker Andre-Pierre Gignac at Tigres has undoubtedly opened a new market and made it more acceptable for both European and top Latin American players to play in Mexico.
"It's a masterstroke by Leon, from a marketing standpoint," said Gomez. "It works on both sides of the border and allows them to position themselves with the American market even after Landon is gone."
It's more than likely Donovan won't go on to emulate Gignac or even Ronaldinho, who famously got a standing ovation at the Estadio Azteca with Queretaro in 2015, reminiscent of the one Real Madrid fans had given him with Barcelona a decade earlier. But the signing continues to add cache to a league facing the same balancing act as MLS, developing young talent and importing big names to attract attention. In the near future at least, it's clear now both leagues will begin competing for the same smattering of names as the U.S.-Mexico soccer rivalry heads in a new direction.
It bears noting, however, that public opinion towards Donovan in Mexico has softened of late. After emerging as an enfant terrible in the early 2000's who played with a real sense of animosity towards Mexico, the peak of anti-Donovan sentiment came somewhere in the middle of the LA Galaxy legend being caught urinating on the pitch of the Estadio Jalisco in 2004 and the umpteenth iteration of dos a cero. But Donovan's natural charisma, ability to speak Spanish fluently and willingness to make fun of himself -- case in point: this 2010 commercial in which he dons a fake mustache, poncho and sombrero -- slowly thawed the relationship. (That said, the commercial wasn't well-received at the time.)
After Club Leon officials handed out miniature American flags and dozens arrived at the stadium clad in Donovan jerseys for his presentation on Monday night, it was safe to say that perception had flipped. Without context, it certainly seemed bizarre but then, Donovan delivered a glancing blow. He had once been public enemy No. 1 in Mexico but now, he was being cheered, culminating a switch reminiscent of pro wrestling storylines.
"I don't believe in walls," said Donovan in pitch-perfect Spanish, eliciting the biggest roar from the crowd.
Eric Gomez is an editor for ESPN's One Nación. You can follow him on Twitter: @EricGomez86.