Louis van Gaal won't ask Man United about talks with Jose Mourinho
Louis van Gaal says he won't ask Manchester United officials if the club have been in contact with Jose Mourinho about replacing him as manager, saying he would be "disappointed" if reports are accurate.
Sources have told ESPN FC that United have opened talks with Mourinho in recent weeks, and there has been no denial from Old Trafford among similar reports.
Van Gaal reiterated on Friday that he did not believe there have been any such talks with vice-chairman Ed Woodward, but he admitted he would feel let down by such a move if the club did not inform him first.
"Then I shall be disappointed,'' the United manager said. "Because that is the consequence of what I have said. In a football world that is possible, I know, but I do not think that.
"I have a relationship with Ed and the Glazers, they [would] tell me I think.''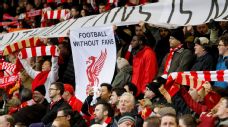 Van Gaal insisted he felt no need to ask Woodward or other board members whether contact had been made between the two parties.
"I don't think that I have to [ask] them, no,'' the 64-year-old said.
Unlike when David Moyes was under pressure, United have failed to intimate that Van Gaal has their backing. Some have taken that as a sign that Van Gaal has lost the faith of the board and they are considering replacing him with Mourinho. But Van Gaal says he does not mind that the club have not made a statement backing him.
''I am not agreeing with that,'' the Dutchman said when asked if it would be better for the club to say something on the matter.
''Because I have said many times that not all the media, but a lot of media, is inventing stories and you don't have to answer on invented stories. I agree with this policy of the club.''
Van Gaal said any barometer for his staying on would be better answered by the club board, but he agreed with the suggestion that a fourth-placed finish would be regarded as a "good'' season.
"I think so, but that analysis has to be made by the board and maybe also by the media," he said. "I think that you have to always look at the circumstances, how you have to work, and I think this board is doing that."
Van Gaal maintained that all the pessimism surrounding United could be reversed if his team went on a run over the next few weeks and bridged the six-point gap that separates them from fourth.
"In two games you can be level with your competitor," he said. "That is the benefit of this system of three points."
A win over Sunderland at the Stadium of Light on Saturday would certainly help matters, particularly as the top four are all playing on Sunday.
Sunderland

Manchester United
Game Details
Van Gaal plans to enjoy Valentine's Day with his wife Truus regardless of the result or those of his rivals.
"I will give my players a day off [on Sunday], so they can spoil their woman and I am spoiling my woman every day,'' he added with a chuckle. "We are doing something special but I don't tell. It is very private."
Cameron Borthwick-Jackson is expected to continue at left-back following his recent impressive form.
The 19-year-old has performed well since being promoted from the academy and looks set to earn a new deal.
Van Gaal said: "We are dealing with that (a new contract) of course but you have to wait for an announcement from the club."