Daley Blind: Manchester United's 'tired legs' led to Chelsea equaliser
Daley Blind says Manchester United's disappointment at dropping two points in the 1-1 draw against Chelsea is preventing them from taking any pleasure from their performance.
Blind, 25, believes Louis van Gaal's side played well in Sunday's Premier League clash and deserved victory at Stamford Bridge.
However, he was left rueing Diego Costa's late equaliser -- cancelling out Jesse Lingard's opener -- which meant his overriding emotion was one of frustration.
"Of course we're disappointed," Blind told MUTV. "If you play a game like this you have to reward yourself. It was difficult in the end, we knew that. I think overall we played a better game, we were the better team and we deserved the three points.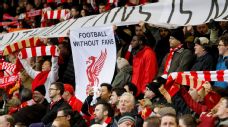 "But we can't deny that they got some chances as well in the end. In the last 15 minutes they were the better team but overall we were better. They put extra strikers on and their defenders came up. A lot of players were getting tired, there were tired legs meaning there was a lot of free kicks given away.
"So it was difficult. But we stood our ground, David [De Gea] was in great form and made some great saves so that gives confidence to your defence. It's a pity what happened in the last minute.
"I think we can be positive about the play but for now the disappointment overrules that. We played well, we'll see what we need to do next week but of course it's on our mind that we've played well. But like I said, for now the disappointment is overruling that."
Sunday's result leaves United six points off the Premier League's top four in fifth place.