Louis van Gaal: Chelsea win would spark Man United title challenge
Louis van Gaal believes victory over Chelsea can kickstart Manchester United's season and propel their title push.
Van Gaal's team are 10 points behind leaders Leicester and visit Stamford Bridge, where they have won only once in 13 league visits on Sunday.
The Dutchman noted Chelsea are unbeaten under interim manager Guus Hiddink, who has been in charge for nine games but, buoyed by back-to-back victories, he is dreaming of a triumph that can bring about a revival in United's fortunes.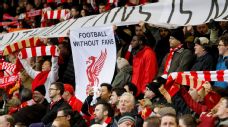 "Since Guus Hiddink is there they don't lose any more so it is not so easy so then I think our league [challenge] shall start again," he told a news conference.
"That is very important. Michael Carrick said that and I had the same feeling. The competition is not finished. Not for Manchester United and not for the other teams. In this competition everything is possible.
"We have the feeling and that is beginning [now] we are winning in a row two times and with sparking football, with goals, with clean sheets, against opponents who were in great form."
Van Gaal said the mood at Old Trafford is upbeat after United beat Derby 3-1 in the FA Cup and Stoke 3-0 in the Premier League.
"It is always better when you win and certainly when it is in a row with a very good performance and also with three goals in a match, big victories in the FA Cup and also in the league," he said. "So that shall give a big boost to the players. You can see that also in the training sessions."
Van Gaal was more touchy on the subject of Hiddink, his successor as Netherlands manager, characterising their meetings in one word: "Professional."