Blame Man United players, not Louis van Gaal for struggles - Jesse Lingard
Jesse Lingard has said Louis van Gaal should not be blamed for Manchester United's struggles this season -- as the players have to take responsibility.
United have won five of their seven games in 2016 but ended 2015 without a victory in eight matches, their worst run for a quarter of a century.
It led to calls for manager Van Gaal to be sacked but Lingard believes United's recent renaissance, including Tuesday's 3-0 win over Stoke, indicates the players were culpable for their previous problems.
"With the results, it's not the manager's fault, we've been on the pitch playing," he said. "You've seen that we can get results we need if we put our mind to it."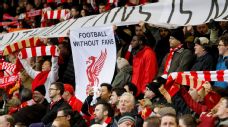 Lingard admitted it has not been easy with speculation about Van Gaal's future and the Old Trafford crowd booing the manager at times.
"It has been difficult, but most of us have shown great character to get through the tough stages and as long as we've got the fans behind us we'll come through the storm," he said.
The Old Trafford faithful have chorused "attack, attack, attack" at times this season and turned on Van Gaal after the 1-0 defeat to Southampton.
"It's hard, but we have to concentrate on the game," Lingard said. "We can't let the fans influence how we play. We are on the pitch."
Lingard opened the scoring against Stoke, which was the second successive match where United struck three times, and he supported captain Wayne Rooney, who said on Friday that they have been given more licence to express themselves.
"Now we are playing with that freedom and we've got a lot of energy in the team and to be mixing up the positions and entertain the crowd we'll have to do that, but it's that freedom that we have, it's a weight off our shoulders and we can just play football now," he said.
After four loan spells away from Old Trafford, Lingard is now establishing himself in the United team, realising a long-held ambition.
"Obviously, that was my main aim from when I was young, so to now be playing week in, week out in the Premier League for Manchester United is a dream come true," he said.
"I have got to keep working hard because I know other people are fighting for my place. I have got to keep scoring and creating chances."