Manchester Utd confidence restored with Derby win, says Louis van Gaal
Louis van Gaal claimed Manchester United have got their confidence back and said they "dared to play" as they beat Derby County 3-1 in the FA Cup on Friday.
United, who had lost 1-0 to Southampton at the weekend, became the first team to book their place in the last 16 with victory over their Championship opponents.
Derby County

Manchester United
Game Details
Wayne Rooney, Daley Blind and Juan Mata scored, with manager Van Gaal feeling his side produced "fantastic" goals.
"I like the performance, it was with a lot of confidence, so that is back and that is important," Van Gaal told MUTV.
"We have won every game in 2016 except the game against Southampton and that was because of the lack of confidence. We played at home [then] so the fans are supporting us so it was a bit ridiculous, but we did play like that.
"Now the confidence was back and we dared to play again. We scored goals and fantastic goals. The second and third were fantastic combinations and fantastic finishes."
Van Gaal insisted he had not let his players off the leash, claiming he was not holding them back in other games.
"They didn't have more freedom," Van Gaal said. "They always have freedom from me. I always give my players freedom.
"You want to write that but then don't ask [a] rhetorical question. For you [it is] obvious [there is] more freedom? No. Same philosophy, same training session past three days. I give my players always freedom, building up attack is more freedom than defending.
"Defending I have a game plan. I am not pleased with how you are twisting my words."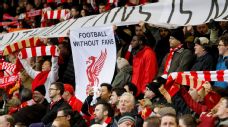 Anthony Martial had two assists for the first time as a United player, and while Van Gaal tipped him for greatness, he criticised the Frenchman for his start at the iPro Stadium.
"I thought for the first 20 minutes he was very bad," Van Gaal said. "He started not so good but I have said that to him. After the first 20 minutes, he was fabulous. I am very happy he is at Manchester United because I think he shall be a great player for Manchester United for a long time."
Centre-back Blind turned up in the Derby box in open play to score his first goal since September, and Van Gaal added: "He sniffs the chance and that is why he can score."