Man United boss Louis van Gaal slams 'awful and horrible' resignation stories
Louis van Gaal insisted he has never offered to resign as Manchester United manager -- but accepted he could be sacked if his side are knocked out of the FA Cup by Derby.
Van Gaal railed at what he claimed has been "awful and horrible" coverage in the media after reports this week that he had offered to quit after Saturday's 1-0 defeat to Southampton -- ESPN FC sources dismissed the suggestions on Tuesday.
But the Dutchman, whose team have only won three of their last 14 matches, said he is worried United fans believed such stories.
"I think that I don't have mentioned [offering to resign] ever," he said in a news conference.
Derby County

Manchester United
Game Details
"I think that you make your own stories and then I have to answer on your stories. I am not doing that because I think it is awful and horrible and you can write, and a lot of colleagues have written that, and then I have to answer the questions of their stories. I don't think I have to do it. I don't think the press conference is the moment to talk for that.
"When you make your stories, I am very concerned the people are believing what you are writing and because I receive a lot of calls and messages."
Referring to suggestions he was on the brink of the sack in December, Van Gaal added: "You can write what you want and it is now the third time already that I have been sacked and I am still sitting here for you and I am here because I am obliged to do that.
"When you ask me, of course, I have certain people I like because they put a question a very respectful way but a lot is in a very disrespectful way."
United travel to the iPro Stadium on Friday with Van Gaal hinting it could be the end for him.
He said: "Maybe then you will have written the truth because sometimes it happens. I cannot lose any more, because if I do then I am condemned to being sacked for a fourth time."
Van Gaal insisted he would see out his Man United contract, which lasts through next season.
"Everybody knows I have signed here for three years," he said. "I don't answer any more questions about that because you are making your own stories but I have always said that it is not one game but a process.
"I want to continue until the end. I know that the results have not been as good as expected but we are all professionals here. It is your duty as a manager and a player to cope with the criticism and stand up again. We are only at halfway -- there is still time to improve."
Van Gaal accepts belief among fans may have waned but he is determined to win it back, as he is to repay the backing of the club.
He said: "Of course I am very happy with the support of Ed Woodward and the Glazers but it gives you also more pressure. It is the same thing I have more pressure because the fans believe in me, or maybe had, believed in me. That is possible.
"That gives more pressure to you because you will [need to] fulfil the expectations that they have of you."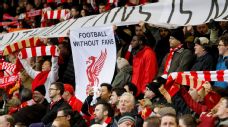 Asked if he can achieve that, Van Gaal said: "Of course. We are halfway. But now I am more dependent on belief than facts, because the facts are we are not in the first four of the Premier League, and that the gap is bigger. The belief is not so easy to believe."
Explaining how the continued support of the club increases pressure on him, Van Gaal said: "When the board has such confidence in you then the pressure is much higher than when they say it is your last game, or something like that, because then the confidence is not so high, and you can fight against it. When you can fight you have bigger motivation than when they support you. I am always fighting."
United's slow style of play has been criticised all season and poor results have now intensified the scrutiny of Van Gaal. United have won just twice in 10 Premier League games and are five points off fourth place. Another damning statistic is that they have not scored in the first half of their last 11 home games.
There are mitigating factors, notably an injury list that currently robs United of five players Van Gaal has used at full-back in Marcos Rojo, Luke Shaw, Antonio Valencia, Ashley Young and Matteo Darmian, among other players.
Van Gaal said: "We have been first in the Premier League. Maybe you remember that? That is one-and-a-half months ago. The injuries are now, that is also a problem."
Information from Press Association was used in this report.