Juan Mata: Manchester United players share fans' frustration
Juan Mata says the Manchester United players share the frustration of their disenchanted fans.
United were booed off at half-time and on the final whistle in Saturday's 1-0 defeat to Southampton and have now won only three of their last 13 games.
And Mata, who came on as a half-time substitute at Old Trafford, said he understands the supporters' reaction.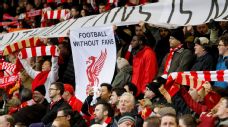 "Once again I'm writing with a bad taste," he wrote on his blog.
"After several games without being defeated, we lost 0-1 to Southampton in Old Trafford. And it hurts, it really does. It was the perfect time to get the three points and stretch the good streak in 2016, but we couldn't make it.
"It wasn't a good game from any of the teams, a draw would have been a fair result (although not good enough for us), but a late goal from [Charlie] Austin after a free kick took the points away from us.
"It's another tough moment, for you and for us, but we must get through this. I understand your frustration, because we feel the same way, but we have to carry on."
Manager Louis van Gaal said after the Saints game that fans had the right to boo United and added: "I'm very disappointed that I cannot reach the expectations of the fans. They have -- or they had -- great expectations of me, and I cannot fulfil them."
United return to action against Derby in the FA Cup on Friday with midfielder Mata vowing to do his utmost to please the supporters.
"Football doesn't stop and now it's time for the FA Cup and we want to fight for this trophy for you," he added.
"We feel bad every time we get a bad result, but it hurts even more for you. We must get better results for you.
"I thank you for your support in the bad times, and I assure you that our only goal is to do things much better to move up the table in the Premier League and try to lift the FA Cup."