Louis van Gaal says Man United fans 'have right to boo' him after defeat
MANCHESTER -- Louis van Gaal accepted the Manchester United crowd turned on him more than ever before in their 1-0 loss to Southampton -- and admitted they were justified in doing so.
Supporters were chanting "attack, attack, attack" after just 40 minutes at Old Trafford and booed United off after the first half and again on the final whistle.
Van Gaal's team only recorded one shot on target -- from centre-back Daley Blind -- and were beaten by a late goal from Southampton substitute Charlie Austin.

Manchester United
Southampton
Game Details
And Van Gaal both heard and understood the fans' reaction, saying in a news conference: "It was very clear. It was a poor game for the fans. I can imagine [why] also because I have seen also a poor match. We didn't create any chances.
"You cannot say that they [fans] are not right. They are right and of course they are disappointed and they have the right to boo me."
The Dutchman believes he faces a struggle to turn things around and to win the fans back over.
"I cannot change that feeling," he said. "I can only work hard with my players to improve our game and that is what I am doing.
"Of course I am disappointed but already I put the question of how I can change this because we have to change this. That is my job and not and it is not an easy job at the moment.
"Even though we have had very good results in January, we could not show that confidence in this game."
The result will inevitably raise further questions about Van Gaal's future at United, who had just one shot on target in the whole 90 minutes, but the Dutchman wouldn't be drawn on the issue.
"I cannot answer that," Van Gaal said. "It's not [up] to me to answer this question."
When asked whether it was the worst performance of his reign, Van Gaal said: "I don't know, but it was a poor performance, of course. Football is not only defending but creating chances, and we didn't create any chances. Our opponents neither -- I think it was a poor game for the fans."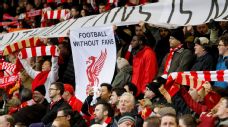 Van Gaal was also unsure why United couldn't build on their recent positive results.
"That's the question," he said. "When you have these results you have to have confidence, but the pressure of Southampton was also high on the ball. So our opponent makes it more difficult, but still I had the impression we could have done it better."
Van Gaal felt Austin's goal came because he removed the ineffectual Marouane Fellaini and the injured Matteo Darmian, leaving his side short of set-piece markers.
"I had the fear already in advance because every change I did we became weaker in the defence because Fellaini is a tall guy and Darmian is also a defender and he was out," he said. "So I had the fear. We don't have to make that kind of foul I think."