Ashley Young ruled out for Manchester United with groin injury
Ashley Young needs surgery on a serious groin injury as Manchester United's injury problems have mounted.
Louis van Gaal will be without seven injured players for Saturday's home game against Southampton as neither Bastian Schweinsteiger nor Phil Jones is fit enough to make his comeback.
But Young is the biggest blow as he is expected to spend a considerable spell of time on the sidelines.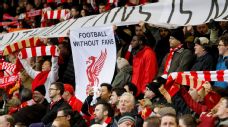 "Ashley Young has a severe groin injury, it shall be operated on, so he's for a long time gone," Van Gaal told MUTV. "It's unbelievable, but we're not lucky with that. Jones and Schweinsteiger cannot come back this weekend. You can count it and we have seven injuries."
The loss of converted winger Young leaves the Dutchman short of full-backs, with Luke Shaw, Antonio Valencia and Marcos Rojo all still missing.
Young was hurt in the first half of Sunday's 1-0 win over Liverpool at Anfield, when he came off and was replaced by Cameron Borthwick-Jackson.
And now the teenager could set for an extended run in the team as the 30-year-old needs to go under the knife.
Midfielder Schweinsteiger, meanwhile, suffered a knee problem in the closing stages of the 1-0 win over Sheffield United and will sit out a third successive game.
Defender Jones has missed three games already with an ankle injury and has not recovered, so Daley Blind is set to continue at centre-back.
But Adnan Januzaj is back in contention for the first time since August after the end of his unsuccessful loan spell at Borussia Dortmund.
The 20-year-old scored twice for United's under-21 team when they beat their Southampton counterparts 4-0 on Monday.
"I think that he is available," Van Gaal added. "He made his work in the training sessions and he has played one match, which is not much of course. He needs to play more matches, but he is available."
Speaking at his prematch news conference on Friday, the Dutchman said he wants to sign a defender in the January transfer window in light of Young's groin injury.
"See our unluck [bad luck] this season with all my full-backs," said Van Gaal in a news conference.
"The full-backs I have started with are Valencia and Shaw and Rojo and Darmian and Young sometimes. They are all injured. Only Darmian is now back and I need full-backs.
"You have seen I have used a lot of times youngsters from the second team, Borthwick-Jackson and Varela, and they are doing great but the level of Manchester United is high and to give every week a performance normally it is very difficult to deliver that for youngsters.
"That is why we have to look always especially during this transfer period for replacements."
Van Gaal admitted he is pessimistic about United's chances of recruiting, believing his preferred targets might not be available.
"But the difficulty is we ask for a level and the clubs don't want to sell in this transfer period," he said. "So we are looking but it is not so easy. Nobody can understand that because everybody thinks it is easy, but it is not so."