Wayne Rooney's Man United revival sparked by being dropped - Smalling
Chris Smalling feels Wayne Rooney's revival at Manchester United owes much to Louis van Gaal's decision to drop him.
Striker Rooney, United's captain, was omitted from the team for the 2-0 defeat at Stoke City on Boxing Day.
But he returned to the starting XI for the 0-0 draw at home to Chelsea two days later, winning plaudits for his performance, and has scored five goals in four games in 2016.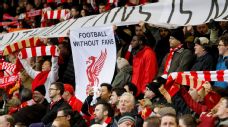 Defender Smalling believes Rooney has benefited from a break, which has given him added sharpness and extra motivation to prove what he can do.
"I think so," he told reporters when asked whether dropping Rooney had made a difference. "It was a busy Christmas period, but since he has missed that game and come back in he has shown he is a top-class performer.
"I think it can refresh you and spur you on a bit more to prove to everyone just how good you are, and people don't forget that.
"I think, given his career as a striker, you go through periods where you don't score. But the best ones are the ones that come back and get on another run, and Wazza [Rooney] has shown that throughout his career. It's good to see he is back among the goals."
Rooney scored the only goal in Sunday's 1-0 win at Anfield, and Van Gaal said afterwards that he believes United can still win the title.
England international Smalling agreed, adding: "Our eyes are forward. It's just on us to get that consistency. I think you have seen that, if you get three or four games in a row, you are right back up at the top.
"It's a crazy season where you look back at times when you have dropped points, but then if you get a win it looks that little bit much closer.
"That's the plan. We want to kick on now and not make one step forward and two back, so fingers crossed we can show it again on Saturday."