Manchester United have worsened under Louis Van Gaal - Michael Owen
Former England striker Michael Owen reckons his former club Manchester United have gone backwards under the guidance of Dutch manager Louis van Gaal.
United have scored the lowest number of goals among the top six sides in the Premier League standings -- 24 in 20 games -- but do have the second best defensive record after Tottenham with only 17 league goals conceded.
The Dutch manager got some much needed reprieve at the weekend when United sealed a 1-0 win over Sheffield United in round three of the FA Cup, courtesy of a late penalty converted by Wayne Rooney.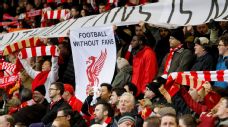 But the win failed to cover up United's failure to dominate teams like they used to under the guidance of former manager Sir Alex Ferguson.
"It is getting worse [under Van Gaal]. It is certainly not getting better," Owen told talkSPORT.
"People are surprised at how bad they have been playing but we have been covering them on the television for some time now and that was a normal performance against Sheffield United.
"You go to Old Trafford and you are not entertained like you used to be. And that is a serious problem when you are a club like Manchester United.
"The players are virtually being strangled in many ways. When you have got two full-backs that hardly venture forward, you have got two big sitting central midfield players that really don't offer much going forward, and you have got your two centre-halves and your goalkeeper, you are talking seven players straight away that are in there to be defensive-minded.
"Then you are asking four players to go and try and break down 11 and it is virtually impossible.
"It is literally four players against a team and it is difficult for anyone to get any space or any chances."
Up next for Van Gaal's charges will be a tricky away trip to St James' Park to face Newcastle United on Tuesday night, and United must seek a win to maintain their challenge for a top-four finish, although Owen is unsure if the Red Devils are capable of getting the job done.
"Finishing in the top four is going to be a struggle looking at the results since Van Gaal took over," Owen added.
"The players are probably hating every minute of it. It is no fun for anyone at the minute. It is really tough to watch for the fans, for the players and even Louis van Gaal must be bored watching it."