Man United's Louis van Gaal admits good relationship with Adidas chief
Louis van Gaal refused to respond to Adidas chief executive Herbert Hainer's remarks about Manchester United's style of play earlier this week, but said the two men have a "very good relationship."
The 64-year-old appeared to have ridden out his side's troubles on the field recently until Hainer rocked the boat with his take on United's playing style.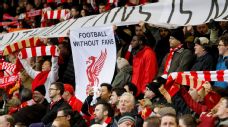 Hainer, who signed off a £750 million sponsorship deal with United last year, said United's style is "not exactly what we want to see." Van Gaal insists he is on good terms with Hainer, who was on the board at the time the Dutchman was in charge of Bayern, and played down the significance of the criticism.
"I don't think I have to respond to that kind of remark," Van Gaal said.
"I do think that is more the function of my chief executive [Ed Woodward] to respond.
"I have a very good relationship [with Hainer]. He was on the front row when I was at Bayern Munich [earlier this season] at a sponsor's event.
"He is more interested in revenues and these were very good."