Pep Guardiola's Premier League plans don't worry United boss Louis van Gaal
Louis van Gaal declared he was not worried about Pep Guardiola's announcement he wants to manage in the Premier League next season as he voiced his confidence the Bayern Munich coach will not take his job.
Guardiola, a double Champions League winner in his time at Barcelona, will leave the Allianz Arena in the summer and has set his sights on managing in England.
Manchester City are the favourites to hire the 44-year-old, but although Van Gaal has come under pressure with United winning only one of their past nine games, he cast doubt on Guardiola joining any English side.
"It's not for sure he will be the manager of a Premier League club next season," said Van Gaal, who managed Guardiola when he was a Barcelona player.
"I'm at the end of my career so for me it's not so interesting. For me it is interesting how I take care of Manchester United in my contract and I still have one year to go after this season.
"I said [what my goals are] when I came here. I still have the same goals. I have received a contract of three years and these are same goals as when I came here.
"I said that two years ago [that Guardiola would come to England]. It's not so strange, you have to set always your goals, as a manager also.
"Some people might look at that a little bit strangely, but managers have ambitions too and he wants to sniff the culture of England.
"I wanted that also and I think that it's very good he wants to do that, and I don't think it will have an impact on his club. Every manager has that right to announce that [his intention to leave at a certain point]."
"He has that ambition [to manage in England] and he wants to sniff to the culture of England and the Premier League. I think it is very good he wants to do that."
Van Gaal also recalled Adnan Januzaj from a loan spell at Borussia Dortmund this week after the winger failed to make a Bundesliga start for the German club.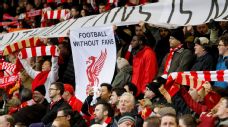 But the Belgian will not be involved in Saturday's FA Cup tie against League One Sheffield United, with his United comeback likely to come in a reserve-team game against Reading on Monday.
"Manchester United is a club who takes care of all their players," Van Gaal said.
"I think it's a very good habit to do that and I believe in the talent of Adnan Januzaj. I have said that also, and I have said already that it would be difficult for him to play matches at Dortmund. Unfortunately I was right.
"When he doesn't play there too much, he can train better with us and maybe he can play in the first team. First, he has to show his fitness in the under-21s. We have to wait and see if he can play on Monday."