Ex-Man United stars under fire over Lingerie Football League event
Manchester United legends Gary Neville, Phil Neville, Ryan Giggs, Paul Scholes and Nicky Butt are under pressure to cancel a Lingerie Football League UK (LFL UK) launch event at their hotel.
Chelsea Ladies founder Tony Farmer has launched a petition against the event at Manchester's Hotel Football, writing that the former United players "are on the verge of setting women's football in the UK back at least 25 years."
#footballrevolution pic.twitter.com/V5VM4zhIL2

- Lingerie Football UK (@lingeriefluk) December 16, 2015
LFL UK, a 14-team league in which female players don sports bras, is due to get underway with a match on Dec. 23 but Farmer called for the United stars -- part of the club's "Class of '92" -- to cancel the event.
Farmer wrote: "I started Chelsea Ladies Football Club in 1992 to promote women's football. Since then managers, coaches and players have had to battle prejudice and sexism to be part of the game they love.
"The famous Class of 92 (except David Beckham, a great ambassador for football) Phil Neville, Gary Neville, Nicky Butt, Paul Scholes and Ryan Giggs are on the verge of setting Women's Football in the UK back at least 25 years, promoting the launch and inaugural match of the Lingerie Football League (LFL) at their Hotel Football UK in Manchester on Dec. 23.
"This will expose women and girl footballers who have worked so hard to have the right to play football to all the sexism and prejudices endured by their predecessors.
"Lingerie Football is all about making the game sexual titillation for spectators and could expose players, especially young girls starting off in football, to people who view them as a sexual object rather than sportswomen."
Women's football received a boost in popularity over the summer as England finished third at the World Cup but, in terms of nationwide interest and finance, it does not compare with the men's game.
Who wants to join us? pic.twitter.com/fpaXYW4jFh

- Lingerie Football UK (@lingeriefluk) December 19, 2015
LFL UK has said it was founded with the aim of "playing football and fighting for gender equality."
Its website says: "LFL UK believe that the beautiful game needs to face up to the ugly inequality of the huge gender wage gap. Women train as hard as men, women are as dedicated to the beautiful game as men so women should enjoy the same rewards.
"LFL UK plan to bring about a football revolution in the United Kingdom, by playing in lingerie. LFL UK will increase public interest in women's football so that women's teams can play to packed stadiums, just like the elite men's football teams."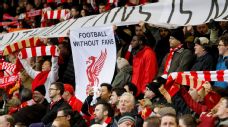 Gemma Hughes, the LFL UK founder and also a lingerie blogger, told the Manchester Evening News earlier this month: "What we are doing is bringing women's football into the limelight.
"If you look at for example tennis, the women and men receive the same amount of pay.
"The reason being the women look like women and are not trying to represent the man's game. We are working for the benefit of women."
She added to Manchester Confidential: "The highest paid female footballer makes £65,000 -- compare to that to male footballers, with wages skyrocketing into the millions. We need to face up to this ugly inequality and the huge gender wage gap."
Sepp Blatter, the suspended FIFA president, attracted widespread criticism in 2004 when he suggested female players could wear "tighter shorts" and said: "Female players are pretty, if you excuse me for saying so, and they already have some different rules to men -- such as playing with a lighter ball.
"That decision was taken to create a more female aesthetic, so why not do it in fashion?"