Anthony Martial agent blasts Arsene Wenger 'winger' claim
Anthony Martial's agent has scoffed at Arsenal manager Arsene Wenger's claim that he did not pursue an interest in the player because he is more like a winger than a striker.
On Wednesday Martial, 19, scored his fourth goal in four games for Manchester United since making a £57.6 million switch from Monaco.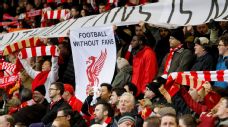 After the transfer was completed, Wenger said that Arsenal had been aware of the former Lyon and Monaco player "since he was a kid."
"But he's more of a winger-type," The Independent reported Wenger as saying.
"He's an exceptional talent I agree with you but I believe that he plays in positions where we have players like Alex Oxlade-Chamberlain, Alexis Sanchez and Joel Campbell who can play in the position."
However, Martial's agent Philippe Lamboley said on Thursday that that he was "surprised" by Wenger's analysis, arguing that the newly capped France international was a "true modern centre-forward" also capable of playing on the wing.
"I don't agree with him because Anthony scored between 25 and 30 goals a season at Lyon's youth academy while playing as a centre forward and having never played as a winger," Lamboley told RMC.
"When he gets free and leaves the centre, it's actually to speed up and get away from the central defenders.
"If Arsene Wenger's analysis is made with the aim of justifying not having signed Anthony, then I accept his remarks and he's therefore a winger.
"But in football, there are those who follow players and those who buy them."
Like most observers, Wenger had also questioned whether the teenager was worth what United had paid for him.
But earlier this week Bordeaux manager Willy Sagnol -- who called Martial up to the France under-21 side as a 17-year-old -- said his signing represented a "superb gamble" on United's part.