Pep Guardiola: Manchester City must be cautious with Vincent Kompany
LEICESTER -- Manchester City must be careful with the fitness of Vincent Kompany, despite his return coming at the perfect time, insists Pep Guardiola.
The City captain played his first game in more than two-and-a-half months in the 2-0 victory over Leicester City on Saturday that maintained their eight-point gap at the top of the Premier League.
However, his central defensive partner John Stones hobbled off in the first half with a hamstring injury, which Guardiola fears could keep him out for up to six weeks.
Kompany, 31, has been troubled by persistent muscle injuries for the past few seasons, and the Leicester victory was just his fourth appearance of the crrent campaign after he suffered a calf strain.
"Of course, we have to take care of him, we are trying to do that," Guardiola told a news conference. "He missed more than two-and-a-half months because he play against Gibraltar with a 9-0 scoreline.
"We have to be careful in terms of how many minutes, how he feels because he was out for two-months-and-a-half, and we miss him.
"It's a risk to play him more and more, but now John Stones is out, we have a real, real problem in that position."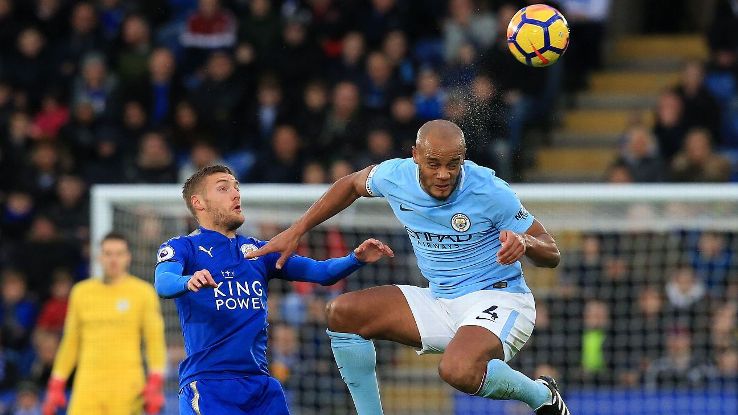 Kompany admitted to reporters that he felt under pressure returning to a side that made should an incredible start to the season -- winning 17 of their 18 games so far this season.
City were without the suspended Nicolas Otamendi at the King Power Stadium and he will go straight back into the squad, but Kompany admits Stones will be a big loss for the side.
"Usually when I come back everyone's looking forward for me coming back. On this time it was the first time I've come back into the team and I knew that the team was doing well and the pressure was on for me to perform and I enjoyed it," the Belgian said. "I enjoyed every single moment of it. I just trust myself.
"Stones was one of the outstanding performers so far. If there's one thing I can give him it's that it's something you have to go through in your career at times and there's no reason why you shouldn't come out stronger for it.
"Hopefully it's not too bad and when he comes back -- as was shown [at Leicester] really because we played with two centre-backs who didn't really play in the last couple of months -- we'll need him back as much as we'll need anyone otherwise we won't achieve all these targets we have."
Kompany's afternoon could have ended early when he was given a yellow card for a tackle on Jamie Vardy that Foxes boss Claude Puel thought should have been red.
"It didn't cross my mind, I knew it was a yellow," the defender added. "It was early doors, it was a good run from Vardy I thought 'just use my joker now!'
"What was positive was that I still managed to play virtually the entire 90 minutes with a yellow card in the back and still do what was needed for the team, put in some good challenges, put in some good tackles. So overall I was happy with my performance especially after coming back."
Jonathan is ESPN FC's Manchester City correspondent. Follow him on Twitter: @jonnysmiffy.