Pep Guardiola to carry on Bayern and Barcelona style at Man City - father
Pep Guardiola will "change the mindset of English football" when he takes charge of Premier League side Manchester City, his father has told BBC Sport.
On Monday, current City manager Manuel Pellegrini confirmed he will leave the club at the end of the season, before it was announced that Bayern Munich's Guardiola will succeed the Chilean for the 2016-17 campaign.
PODCAST -> The ESPN FC crew on Guardiola to Man City, Terry's future, deadline day & more: https://t.co/GHH5dNFpbc pic.twitter.com/lj0skDmQBJ

- ESPN FC (@ESPNFC) February 2, 2016
Valenti Guardiola, the former Barca midfielder's father, is expecting his son to continue the style of play he has implemented at the Camp Nou and the Allianz Arena when he takes over at the Etihad.
"He will look to carry on the football of his Barcelona and Bayern teams," Valenti Guardiola said.
"He has this attitude to football [as an art form]. Not just to win, but to win in a distinctive way that entertains the public.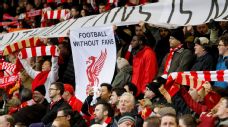 "The style of football I see in England, I doubt he has that in mind I mean, the football is very different. For that reason, I think he will have to change the mindset of English football.
"I think he will be happy -- he wouldn't be leaving if not. Right now in Germany, he is held in very high esteem."
Guardiola won two Champions Leagues and three La Liga titles at Barca, and the 45-year-old has two Bundesliga titles in his two full seasons as Bayern boss.