Man City boss Manuel Pellegrini: Kelechi Iheanacho show no surprise
BIRMINGHAM, England -- Kelechi Iheanacho's hat trick in the 4-0 victory over Aston Villa came as no surprise to Manchester City boss Manuel Pellegrini.
Iheanacho scored three and set up a fourth for Raheem Sterling as City easily beat Villa to secure a place in the fifth round of the FA Cup.
The 19-year-old Nigerian has now scored eight times this season and Pellegrini says it justified his decision to allow strikers Edin Dzeko and Stevan Jovetic to leave the club at the start of the season.
Aston Villa
Manchester City
Game Details
Pellegrini told a news conference: "I see him working every day so I know what he can do during the game. Maybe I received some criticism for why we didn't replace Dzeko and Jovetic at the beginning of the season and I answered that we have Kelechi.
"It's very important for him to have the chance to demonstrate why he is in this squad so I think that was a very useful game for him.
"To score a hat trick is not easy but I'm impressed because I see him in the way he works every day and how he's improving in every session working with these important players."
Iheanacho has only started four games in his first season with the first-team but Pellegrini had enough confidence in the striker to rest Sergio Aguero against Villa.
However, he was not included in City's Champions League squad at the start of the season and Pellegrini now faces an awkward decision over whether to add him to his 25-man European squad.
If Iheanacho does make the step up, the Chilean would have to omit a senior player -- although Samir Nasri and Kevin De Bruyne will not be back from injuries until late March at the earliest.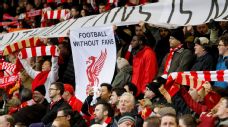 Asked if Iheanacho will now be included, Pellegrini said: "It's a decision we are going to take during this week before the date that we can do it, but of course he pushed a lot.
"We need him because Wilfried Bony is also injured so that leaves just one striker. We'll see -- not because of the three goals but because we need another striker.
"We'll see, we'll talk it over with the doctor, which is the player that can play [first]. Samir and Kevin will be out until the end of March. I will see during the week."
Villa boss Remi Garde insisted he is not worried about his reputation and Villa will continue to battle the drop.
"I am not working for myself, I am working the best I can for this football club. My name is not important for me," he said. "I am not here to save my skin, I'm am here to do my best. I am sticking with my players and I know that it was not a comfortable position when I came in."
Villa were unbeaten in their previous five games but City's early goal ended any hopes of extended the run but Garde felt City's penalty, when Leandro Bacuna fouled Sterling, was soft.
He added: "I saw that at half time. It's a bit harsh, it was a generous penalty. After 25 minutes you are 2-0 down, two set pieces, they are a good side but I don't remember them having too many chances during this time."
Jonathan is ESPN FC's Manchester City correspondent. Follow him on Twitter: @jonnysmiffy.