Everton can't complain about referee, says Manchester City's Pellegrini
MANCHESTER -- Manuel Pellegrini had little sympathy for Everton after Manchester City reached the final of the Capital One Cup with a controversial goal.
City won 3-1 to secure a 4-3 aggregate victory but Kevin De Bruyne's goal that put the home side ahead came from a Raheem Sterling cross that appeared to be out of play.
Manchester City

Everton
Game Details
However, Pellegrini felt Everton's opener had come from a foul on Sergio Aguero and that in the first leg, the Toffees' first goal was offside and that Jesus Navas had a penalty turned down.
City also had a last-minute penalty appeal turned down when the two clubs drew 0-0 in the Premier League in January.
The City boss told a news conference after the match: "Maybe it was a mistake by the referee, but I think Everton cannot complain about the referee.
"We lost at Goodison Park with a clear offside for the first goal, a clear penalty for Jesus Navas. We drew here with a clear penalty on Aguero. One mistake against four or five mistakes. I think we had two shots on the post and were the better team."
Everton boss Roberto Martinez was furious about the decision and said it denied his team a place at Wembley.
Leading 2-1 from the first leg, his side extended their advantage through an early Ross Barkley goal before Fernandinho reduced the deficit on aggregate with a deflected goal.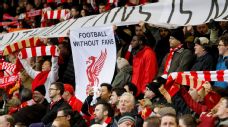 De Bruyne made it 3-3 on aggregate in the 70th minute after Sterling appeared to have taken the ball out of play.
Sergio Aguero headed home the winner for City soon afterwards, but Martinez said the equaliser had been the pivotal moment in the semifinal.
The Everton boss said: "It was a clear decision, the ball is out of play. That second goal affected the outcome too much. You feel so hurt because there are have been a few big decisions that have not gone in our favour.
"You have to respect the referees and they have the toughest job in football. Certain decisions are clearcut, away from the judgment of the referee. When the ball is out of play in the modern game, you don't expect that to be missed."
Martinez denied that the decisions had balanced out over the two legs.
He said: "I don't agree that it was a clear penalty. You can have many decisions that you can argue and that is part of the game but what we're talking about is a clear-cut call -- whether the ball is over the line or not. We're talking about two very different aspects."
Jonathan is ESPN FC's Manchester City correspondent. Follow him on Twitter: @jonnysmiffy.