Bacary Sagna: Manchester City 'being unfairly treated' by officials
Manchester City defender Bacary Sagna says that his side are being treated unfairly by Premier League referees.
Sagna, 32, was angry that City were denied a penalty in the 0-0 draw with Everton on Wednesday when John Stones fouled Raheem Sterling in the box late on.
City are three points behind joint-leaders Arsenal and Leicester in third, but the Frenchman insists that officials are not awarding them their fair share of penalties.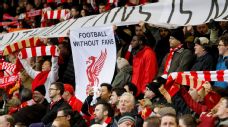 "It's not the first time. In the beginning we didn't say anything but now -- it was the case against Leicester with [Sergio] Aguero [as well]," he told reporters.
"The whole team are being unfairly treated. I don't know why because it isn't the first time it's happened this season. Mistakes are natural -- they [referees] are human beings -- but at the end of the day we're not getting the penalties: against Everton, Leicester and many other games.
"I don't want to blame the referee because he's the only official on the pitch. Maybe have someone behind the goal. What do we have to do to win a penalty if we get the touch in the box? When it's against us it's clearly a penalty and we're punished straight away.
"If it happens in the middle of the pitch it's not a problem -- it's clearly a foul. When in the box it's a big difference when it shouldn't be."