Sergio Aguero a mix of Lionel Messi and Thierry Henry - Bacary Sagna
Sergio Aguero has been described as a mixture of Lionel Messi and Thierry Henry by his Manchester City teammate Bacary Sagna.
And the France defender says Aguero is finding it harder to score this season because he has become such a marked man.
The Argentina striker still has an impressive goal haul -- with 11 goals in a campaign disrupted by injury. But that figure is bulked out by the five goals he scored in just 20 minutes against Newcastle United earlier this season.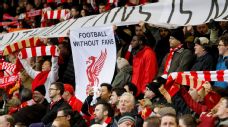 Sagna has no doubt about Aguero's quality and says his teammates must take more of the goalscoring pressure off him.
"He has that difference to make him a top striker, he's unbelievable," said the 32-year-old defender.
"Some players will say he doesn't score enough this time but other teams aren't stupid -- they give him more attention. They bring more players around him.
"We have to find another solution to help him. Maybe we have to step up and players have to show more character to try and score themselves.
"To me he is a mix of Henry and Messi. In smaller spaces he manages to keep the ball well. He showed against Norwich that he can be quite tricky and selfish to score that goal.
"He is one key player. He's done it a lot in the past and he can do it again."