Vincent Kompany suffered calf injury in Man City win over Sunderland
MANCHESTER -- Manchester City captain Vincent Kompany suffered a recurrence of the calf injury that kept him out of his team's last eight matches during the 4-1 win over Sunderland, manager Manuel Pellegrini has confirmed.
Kompany lasted just 10 minutes as a second-half substitute before limping off in visible distress, having not featured since Nov. 8.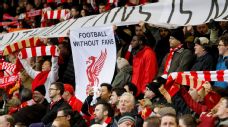 A scan will take place on Sunday but Pellegrini said: "Vincent is not the best news.
"He was ready to return. I did not want him to play the whole game. He worked the whole week with normality.
"We will see tomorrow what the doctor says. The same injury, the same calf."
In a lengthy post on Facebook, Kompany acknowledged that "Today was a bad day for me."
He wrote: "My body feels invincible -- the best it's ever been -- but i'm challenged by a number of small and local injuries. It leaves me more frustrated than with any of the 'big' injuries I've had but it's a challenge that I will overcome.
"There are worst things in life of course and I never forget that. So I'm definitely not asking anyone to feel sorry for me and I hope you wouldn't anyway. This is a way to communicate my situation to those who maybe deserve answers.
"I've made many sacrifices to get where I am today and football is everything to me. This is what I fought for so hard. I want to be the best defender in the world and I want Manchester City FC and Belgium to become the best club and country in world football. I won't give up that dream.
"Injuries have and still are preventing me to play my role the way i'd want to but it's not stopping me to progress. I will get on with it and when I do come back.. I will be stronger again.
"My mindset stays unchanged, I will fight to get what I deserve, my best years in football. Lots of love to all of those who support me. I wish you all the very best for 2016. Let's all together make next year, a wonderful year."
Striker Sergio Aguero was also not risked, and stayed on the bench for the full 90 minutes of the win as Pellegrini saved the Argentina international for Tuesday's trip to Leicester.
"'Kun' was on the bench because if we need him we can play in the second half but I think we have to play Leicester in three days and 10 games in January," Pellegrini said. "He had a small problem so I think it was better not to take a risk. He will be 100 percent on Tuesday."
Goals from Raheem Sterling, Yaya Toure, Wilfried Bony and Kevin De Bruyne dispatched Sunderland, who scored a consolation through Fabio Borini.
De Bruyne supplied assists for both Sterling and Bony in an outstanding individual display, though Pellegrini tempered his praise for the Belgian.
"When the team has a good performance, it is because the team plays well," he said. "It is impossible for the team to have a good performance if you don't have individuals putting in a good performance.
"That is why we bought Kevin -- we knew playing with David [Silva], Yaya, 'Kun,' he can make a difference."

Leicester City
Manchester City
Game Details
City put Monday's 2-1 defeat to Arsenal behind them with a devastating display and are now within three points of Leicester.
"It was a very important victory," Pellegrini said. "Not only because we won the three points but also the way we play. We return to our normal performance, attractive football to score goals.
"I said after Arsenal it is very difficult to talk about positive things but I think we had more than 60 percent of possession. That is a sign we are returning to our style. It was very important today to score four goals and create at least four more good chances."