Manchester City announce first profitable season under Mansour
Manchester City have announced a profit for the first time since Sheikh Mansour's 2008 takeover as they posted a £10.7 million surplus in their accounts for the 2014-15 year.
The former Premier League champions had lost over £350m in the previous four financial years but had club record commercial, broadcast and overall revenue last season.
Chief executive Ferran Soriano said that making a profit was a "historic step in Manchester City's journey" as the club achieved its longterm aim of becoming profitable.
.@MCFC has today released its Annual Report for the 2014-15 season. Read: http://t.co/wlh7Ccihrd #mcfc pic.twitter.com/90TsydrueM

- Manchester City FC (@MCFC) October 14, 2015
City's income rose to £351.8m, the second highest in the Premier League behind Manchester United's £395 million.
Commercial revenue has gone up 4 percent to £173m and broadcast income is up 2 percent to £135.4m.
The Premier League leaders reported that their wage bill had dropped £12m, from £205m to £193m, and salaries account for 55 percent of their outgoings.
It gave City a similar wage bill to Arsenal (£192.7m) but below Manchester United's £203m.
City made a £13.8m profit on transfers in the year that ended on May 31 -- before this summer's purchases of Raheem Sterling, Kevin De Bruyne and Nicolas Otamendi, who cost a combined £135m.
Soriano added: "The seeds of this year's profit were sown some years ago. We know this is the continuation of a process that should take us to an even better future."
City acknowledged they were disappointed with their performances in a year when they failed to retain the Premier League or the Capital One Cup and were knocked out in the last 16 of the Champions League and the fourth round of the FA Cup.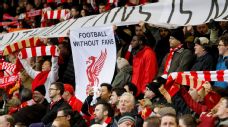 But chairman Khaldoon al Mubarak said: "Our transition to profitability has been a long-planned milestone -- one targeted and worked diligently towards since Sheikh Mansour's acquisition of the club in 2008.
"We have a strategy predicated on longterm sustainability and the ongoing development of momentum year after year.
"Whilst last year was not the complete performance that we strove for, we continued to deliver many of our objectives and further strengthened the foundations for future success.
City had cut their losses to £23m in 2013-14, which included a £16m fine from UEFA after they were found guilty of breaching Financial Fair Play regulations.
City had posted losses of £197.5m in 2010-11, the most ever recorded by an English club, followed by £97.9m in 2011-12 and £51.6m in 2012-13.