Anthony Precourt 'never doubted' Austin FC would become MLS franchise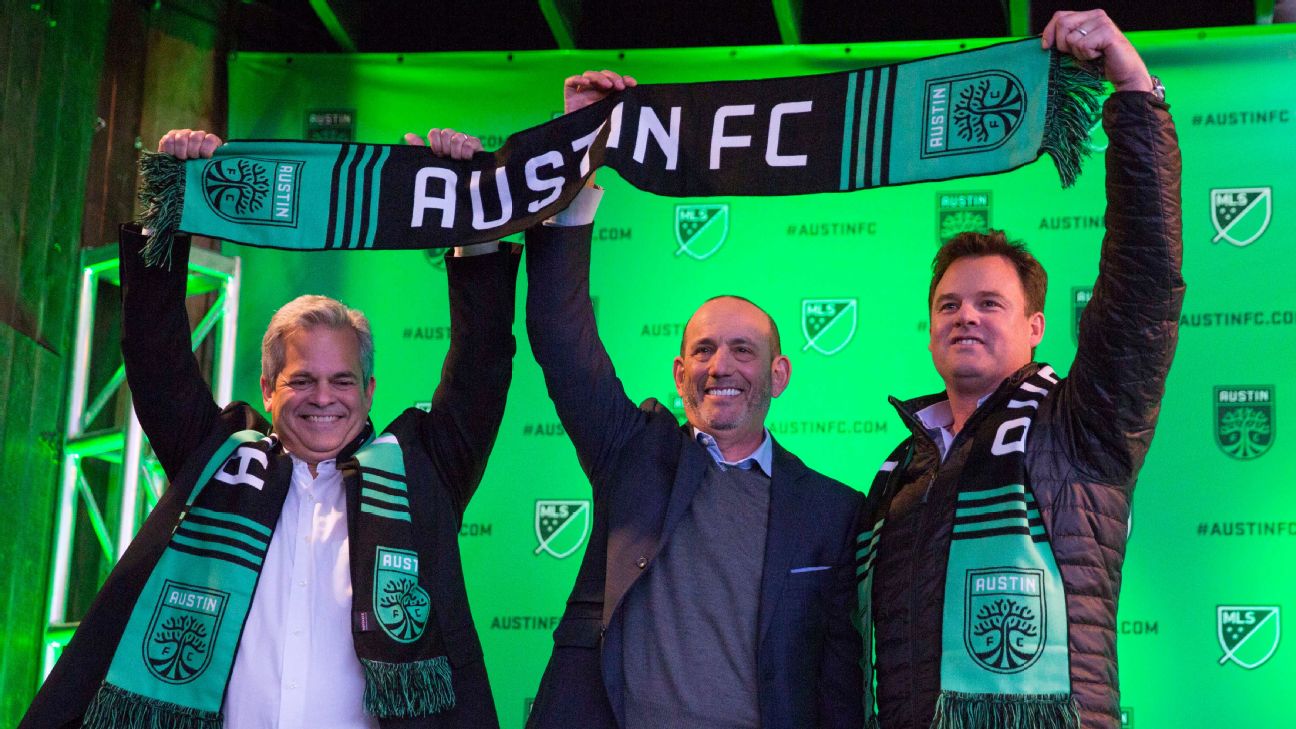 AUSTIN, Tex. -- Owner of newly launched Austin FC Anthony Precourt says that he "never doubted" that it would become a Major League Soccer franchise.
On Tuesday, MLS announced that Austin FC will join the league after its ownership group Precourt Sports Ventures (PSV) spent the past year exploring moving its previous club -- Columbus Crew SC -- to the Texan capital.
Tuesday's announcement brought to an end a 15-month odyssey that had its twists and turns, yet ends with Precourt meeting his Austin franchise objective.
"I never doubted that we would get this done," Precourt said to reporters following the official presentation. "We had a vision and we stuck with it. I knew with hard work and resilience that we could persevere and today demonstrated that for all. There's been a lot of iterations of soccer in this city. This city has wanted this, this city deserves this and today we celebrate that."
Among the attendees to Tuesday's event was Precourt, MLS commissioner Don Garber and Austin Mayor Steve Adler, who each took turns speaking to a rowdy, packed crowd at local Austin bar Rustic Tap.
Garber hailed the leadership exhibited by Adler in helping make Austin FC a reality.
"The mayor had such conviction. If I had any doubts, he assuaged those doubts. He said that we had to have faith in him, city leaders and faith in the people of Austin who really wanted an MLS team," Garber said to reporters.
While Austin FC will not take the field in MLS until 2021, the team has begun preparing for the September 2019 groundbreaking of a privately financed 20,000-seat stadium on city land, among other items.
"We'll start the zoning and permitting process in the next several weeks, and then we'll begin building our training facility. We also plan to launch our academy in the middle of this year so we'll have kids playing in the Austin FC kit, probably at the Under-15 level," said Precourt.
Precourt's decision in October 2017 to relocate the Crew to Austin made very few friends in the Ohio capital, but with the Haslam and Edwards families closing in on the purchase of the Crew, Precourt expressed his satisfaction that MLS will remain in Columbus.
"I'm very happy for Columbus, I always wanted what was best for Columbus, to have a vibrant soccer club in Columbus. The new ownership group there has a great plan," said Precourt. "And I'm thrilled to be in Austin. I believe in this city and I'm happy to be a part of it and we're going to build a proud club here so I'd say it's a very happy outcome for the league and for all involved."