David Beckham group near deal on Miami stadium land - report
David Beckham's Miami ownership group has been in touch with Miami-Dade commissioners over the $9 million, three-acre piece of land the Major League Soccer club needs to complete its stadium in Miami's Overtown neighborhood, according to a report.
The purchase of the land, owned by the county of Miami-Dade, is the last remaining hurdle toward the building of the $10 million stadium. Beckham's group added Dodgers co-owner and banker Todd Boehly last month and, according to The Miami Herald, have solidified their position financially and asked county officials to get the deal next week.
Miami-Dade Mayor Carlos Gimenez was eager to push the sale through the 13-member country commission, the report said, but has now opted to wait until next month so that Overtown residents can be heard first.
The commissioner who represents the neighborhood, Audrey Edmonson, acknowledged the movement from Beckham's group. She encouraged the club to reach out to the community again as they did initially in 2015.
"We finally heard from them," Edmonson said. "They made the promise to come back to the community. That's something I expect them to do."
MBU has already spent $19 million on a six-acre parcel of land in Miami's Overtown neighborhood.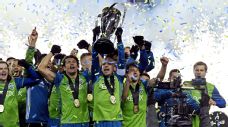 Subscribe to MLS LIVE today!
- MLS LIVE is back with an all-new platform for 2017
- Get the most matches ever, LIVE and ON DEMAND
- Packages start at only $14.99 a month
- Watch MLS on your phone, computer or TV
- Subscribe today at live.mlssoccer.com
Gimenez told WQAM: "We're ready to go. We're waiting for the league to award the franchise. We can get our part of the deal done within 30 days."
MLS is currently reviewing Beckham's proposal and has yet to sign off on the deal, a source told ESPN FC. Some current MLS owners are pushing back over Beckham's discounted expansion fee of $25 million, which was agreed upon back when Beckham was a player in the league, the source said.
Beckham exercised his option back in February of 2014 and MLS has spent three years trying to help him as he was unable to secure his first three choices for stadium sites in Miami.
"Mayor Gimenez and his administration will be working to address Commissioner Edmonson's concerns," Michael Hernandez, the mayor's communications director, told The Herald. "And we are very much open to pushing the agenda item before the board in June, as opposed to next week."
Boehly is the chairman and CEO of Eldridge Industries. Boehly previously served as the head of Guggenheim Investments at Guggenheim Specialized Products, LLC, where he was responsible for the firm's asset management business. Prior to that, he also served as the President at Guggenheim Partners, where he was responsible for launching the firm's credit investing business. He remains part of the ownership group that purchased the Los Angeles Dodgers back in 2012.
Boehly joins Beckham, Sprint CEO Marcelo Claure, CEO of Oak View Group Tim Leiweke and Beckham's business partner Simon Fuller on MBU's investment team.
ESPN FC's Jeff Carlisle contributed to this report.
Follow @ESPNFC on Twitter to keep up with the latest football updates.