St. Petersburg approves stadium plan amid MLS expansion bid
The MLS aspirations of St. Petersburg, Florida received a boost on Tuesday, with voters overwhelmingly approving a plan to renovate Al Lang Stadium.
The referendum, which won approval with 87 percent of the vote, will allow city officials to begin negotiating a 25-year lease with Tampa Bay Rowdies owner Bill Edwards, who wants to expand the stadium's capacity to 18,000 seats.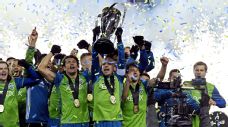 Subscribe to MLS LIVE today!
- MLS LIVE is back with an all-new platform for 2017
- Get the most matches ever, LIVE and ON DEMAND
- Packages start at only $14.99 a month
- Watch MLS on your phone, computer or TV
- Subscribe today at live.mlssoccer.com
More importantly, no public money will be required to complete the renovations, with Edwards' investment group prepared to pick up the entire $80 million price tag. The expansion fee, expected to be around $150 million, will also be privately funded. The investments are contingent on St. Petersburg being chosen by MLS to fill one of four expansion slots.
"I am grateful to the citizens of St. Petersburg for passing this important referendum," said Edwards via a press release. "St. Petersburg is very protective of our incredibly valuable waterfront -- as is appropriate. We have put together a stadium plan that enhances our downtown, is of a scale that is respectful to our waterfront and does not burden the taxpayers."
Former St. Petersburg mayor and current Edwards Group president Rick Baker, who helped lead the effort to get the referendum passed, believes that the margin of victory proves that the city is ready to support an MLS expansion franchise.
The Tampa Bay Times reported that, at a post-election gathering of 350 people, Baker said: "This was a statement from the people of St. Petersburg. We know we have the coolest downtown in the Southeast. We want to widen that gap."
Current mayor Rick Kriseman added: "In approving this referendum, voters have not only expressed their support for a longer term agreement at Al Lang Stadium, but have sent a strong message that St. Pete and the entire region are excited about the prospect of the Rowdies joining MLS. The Rowdies' future in the Sunshine City has never been brighter."
St. Petersburg is part of a 12-city competition to see which locales will fill the available expansion openings. MLS has said that it will select two cities by the end of 2017, with another two to be chosen in 2018. The other contenders include Sacramento, San Diego, Phoenix, San Antonio, Detroit, Nashville, Charlotte, Raleigh/Durham, San Antonio, St. Louis, and Indianapolis.
Jeff Carlisle covers MLS and the U.S. national team for ESPN FC. Follow him on Twitter @JeffreyCarlisle.