Conditions for Minnesota-Atlanta 'everything we imagined' - Don Garber
MINNEAPOLIS, Minnesota -- Major League Soccer commissioner Don Garber embraced the cold, snowy conditions in which Minnesota United and Atlanta United played on Sunday, saying it was "everything" the league imagined.
Minnesota hosted Atlanta in its temporary home of TCF Bank Stadium, and wound up on the receiving end of a 6-1 thrashing at the hands of its expansion "cousins."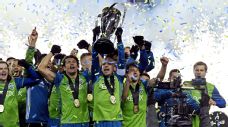 Subscribe to MLS LIVE today!
- MLS LIVE is back with an all-new platform for 2017
- Get the most matches ever, LIVE and ON DEMAND
- Packages start at only $14.99 a month
- Watch MLS on your phone, computer or TV
- Subscribe today at live.mlssoccer.com
And if the lopsided scoreline was somewhat predictable after the Loons' 5-1 loss at the Portland Timbers last week, the weather was even more so. The temperature at kickoff hovered in the low 20s, while snow flurries fell throughout the 90 minutes.
"This is everything we imagined when we awarded the team here in Minnesota," Garber told reporters on Sunday. "I had a sense we'd have a few cold, snowy days, and we had one in our inaugural match here.
"We heard there were 35,000 tickets sold, and we were actually prepared that not everyone would show up, but they did. People are hearty here in Minnesota."
But while the commissioner was enthusiastic about the spectacle of Minnesota's first game at home being played in a winter wonderland, he took the opportunity to reiterate his league's commitment to a summer schedule.
As previous FIFA president Sepp Blatter had frequently pushed for MLS to switch to a calendar that would line up with Europe's -- August through May -- Garber was asked if football's governing body's new head Gianni Infantino has had similar fantasies about the U.S. and Canadian league operating in lockstep with Europe's biggest leagues.
"I don't think Sepp Blatter's been to too many games in Minnesota," the commissioner replied. "All of that talk of playing on the international calendar makes absolutely no sense when you think about what we've been dealing with this weekend.
"You've got to expect that you're going to have cold weather in early March, start thinking about February and January, and it's an impossibility."
Minnesota plays its next two matches on the road, returning home on April 1 to host Real Salt Lake.
Austin Lindberg is a general editor for ESPN FC. Follow him on Twitter at @LindbergESPN.