Sounders' Ozzie Alonso on reputation: 'I don't care what people say about me'
Seattle Sounders midfielder Osvaldo Alonso says he won't change his ways after being named as the player most known for "crossing the line with his behavior" in an ESPN FC survey.
In the poll revealed on Tuesday, 25 percent of 140 players asked on the condition of anonymity said Alonso had the worst reputation in the league.
But the Sounders captain shrugged off the results when asked about it after practice this week.
"I don't care what people say about me," he told reporters. "I play my game and do what's best for the team and that's it. If people think I'm like that, I don't care. I'm going to keep playing like I always play."
Alonso said it made sense that a defensive midfielder was named most often, as he often is charged with neutralizing opponents' star attackers in midfield.
"I think my position, I have to play next to the one of the best players on the other team," he said. "From there, I try to play good defense and initiate the attack for us. I try to do my best for the team and do my job every time I step on the field."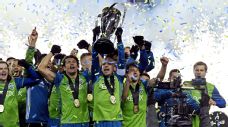 Subscribe to MLS LIVE today!
- MLS LIVE is back with an all-new platform for 2017
- Get the most matches ever, LIVE and ON DEMAND
- Packages start at only $14.99 a month
- Watch MLS on your phone, computer or TV
- Subscribe today at live.mlssoccer.com
Despite his reputation, Alonso has only been sent off three times in his nine-year MLS career, with two red cards in 2013 and one last October after a tussle with Houston's Will Bruin.
He was also retroactively suspended in 2015 for kicking out at Red Bulls midfielder Felipe Martins, who placed second in the survey with 11 percent of votes.
Sounders coach Brian Schmetzer said he wasn't overly concerned with Alonso's behavior.
"I love Ozzie. I love the way he plays, how he plays," Schmetzer said. "OK, there's been incidents over the years where maybe we could've said 'Let's keep our composure' and all that. But I take the good with the bad. There's a ton more good than ever bad.
"If you look at Ozzie's career, some people might want to argue this case, but he's the best defensive midfielder [in MLS] since '09. That's my belief.
"Whatever the article said, whatever it was, I'm sure guys don't like playing against Ozzie but off the field I know he has a lot of respect amongst his peers."
Follow @ESPNFC on Twitter to keep up with the latest football updates.